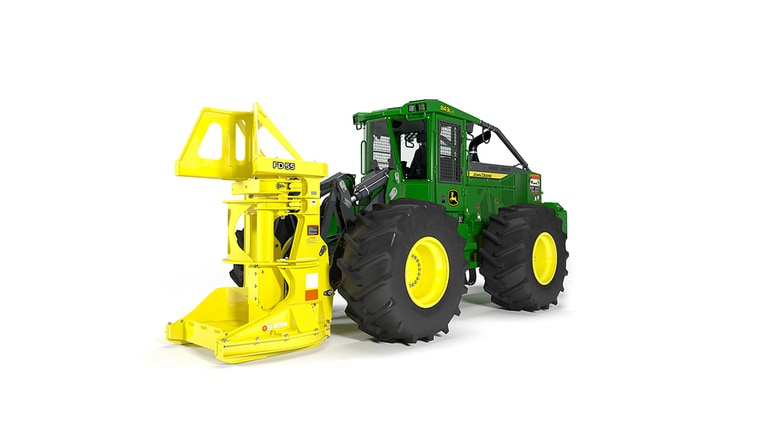 Wheeled Feller Buncher - 843L-II
Gross Power: 201 kW (270 hp)
Gross Torque: 1141 Nm (841 ft.-lb.)
Wheelbase: 3175 mm (125 in.)
Operating Weight: 13 910 kg (30,704 lb.)
Routing of the electrical and hydraulic systems has been significantly simplified, to improve reliability and ease maintenance. Wiring and hoses are better protected against wear and bending. Durable electrical harness components help extend wear life.
Optimal weight distribution and a long wheelbase combine to maximize stability when climbing hills while controlling the load. Durable heavy-duty axles help deliver stability and hill-climbing power under the toughest forest conditions.
Spacious 2.94-cubic-meter (104 cubic foot) cab is comfortable and extremely quiet. Large expanse of front glass provides virtually unobstructed visibility from the seat.
Steering sensors control articulation speed when nearing frame-to-frame contact, cushioning impact during full articulation and improving operator comfort.
High-performance EPA Final Tier 4 (FT4)/EU Stage V John Deere PowerTech™ 6.8-liter engine maintains productivity while minimizing total fluid consumption — diesel fuel plus diesel exhaust fluid.
Take the guesswork out of planning, implementing, and monitoring your logging operation. The tools of our production-planning and -tracking system expand on the core technology features that come standard in every John Deere Forestry machine to unleash a powerful new array of possibilities:
TimberMatic™ Maps is an innovative onboard software solution that helps you reimagine your jobsites. Real-time production views, optimized routes, and shared wireless connections between machines make it easier than ever before to take your forestry operation to the next level.
TimberManager™ is a web-based solution for PCs, tablets, and mobile phones that allows you to follow jobsite progress. Combined with TimberMatic Maps, this software provides complete visibility of your operation — from land harvested to specific machines — so you can streamline communication, analyze tasks, and increase productivity.
John Deere Connected Support™
Your John Deere Forestry machine arrives from the factory equipped with a powerful set of technologies and capabilities already built in:
JDLink™ connectivity lets you track your equipment, see which machines are working, and know if they're being utilized properly and at maximum productivity and efficiency.
Enabled through JDLink, John Deere Connected Support leverages a suite of dealer and factory tools designed to deliver increased uptime and productivity, and lower daily operating costs.
Remote Diagnostics and Programming Capability within John Deere Connected Support helps your dealer warn you of any issue with your machine — often before you know of the problem yourself — and initiate solutions without charging you for a technician's visit to your jobsite.
Our advanced dual approach to Machine Health combines the expertise of the technology specialists at our dealerships with the data specialists at our central Machine Health Monitoring Center (MHMC).
Engine Manufacturer
John Deere
Engine Model
PowerTech PSS 6.8L
Displacement, ltr (Inches³)
6.8 (414)
Engine Output, kW (hp)
201 (270)
Engine Torque, Nm (lbf / ft)
1141 (841)
Number Of Speeds - Forward
2
Number Of Speeds - Reverse
2
Transmission
Hydrostatic-Mechanical
Steering
Articulated frame
Std tire size front
28 L x 26
Service Brake Type
Wet Disc - Inboard
Overall Length, mm (ft/in)
6293 (20 ft 7 in)
Height Over Cab, mm (ft/in)
3216 (10 ft 6 in)
Width, mm (ft/in)
2913 (9 ft 6 in)
Wheelbase, mm (ft/in)
3175 (10 ft 5 in)
Ground Clearance, mm (inches)
484 (19)
Steering Articulation Angle, ± Degrees
45
Fuel Tank, ltr (gallons (US))
396 (104.6)
Hydraulic Tank, ltr (gallons (US))
169.1 (44.7)
Alternator Capacity, Amp
150
Travel Speed, kph (mph)
17.5 (10.8)
Oscillation Point
Front Axle
Oscillation Angle, ± Degrees
15
Operating Weight, kg (lbs)
17081 (37659)