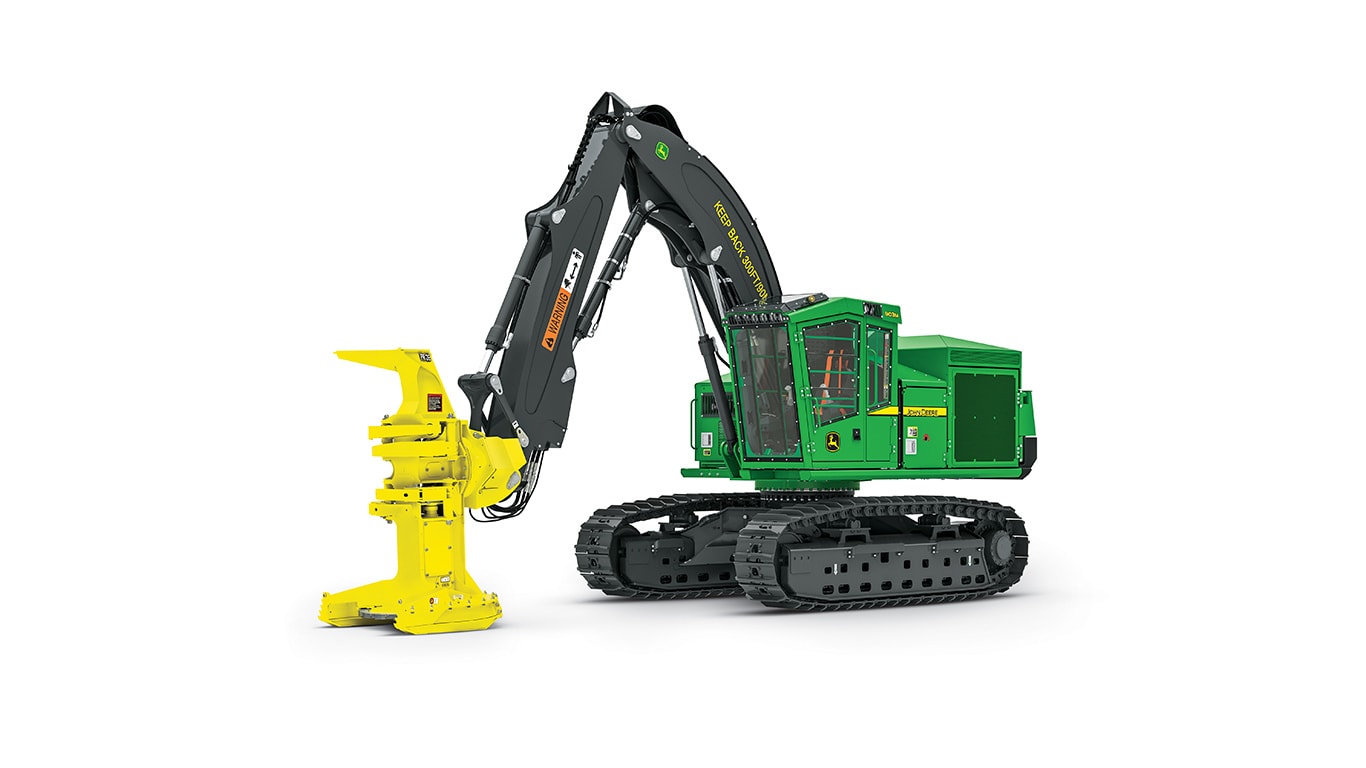 Tracked Feller Buncher - 903M
Peak Power: 246 kW (330 hp) @ 1,900 rpm

Max. Boom Reach: 9.82 m (32 ft. 3 in.)
Tractive Effort: 322 kN (72,300 lbf)
Long and wide undercarriage maximizes stability in all terrain conditions.
Convenient access to service components helps simplify daily checks and preventative-maintenance tasks, so they get done on schedule.
Optional undercarriage-mounted toolbox provides convenient storage for tools, additional saw teeth, and other spare parts.
Optional Rapid Cycle System (RCS)
RCS can be tailored to individual skill levels and specific harvesting conditions. Multiple RCS settings can be saved according to individual operator preferences.
Standard (7.01 meter) and optional (8.08 meter) long-reach boom options with choice of multiple attachments are available to match your unique applications.
Take the guesswork out of planning, implementing, and monitoring your logging operation. The tools of our production-planning and -tracking system expand on the core technology features that come standard in every John Deere Forestry machine to unleash a powerful new array of possibilities.
TimberMatic™ Maps is an innovative onboard software solution that helps you reimagine your jobsites. Real-time production views, optimized routes, and shared wireless connections between machines make it easier than ever before to take your forestry operation to the next level.
TimberManager™ is a web-based solution for PCs, tablets, and mobile phones that allows you to follow jobsite progress. Combined with TimberMatic Maps, this software provides complete visibility of your operation — from land harvested to specific machines — so you can streamline communication, analyze tasks, and increase productivity.
John Deere Connected Support™
Your John Deere Forestry machine arrives from the factory equipped with a powerful set of technologies and capabilities already built in.
JDLink™ connectivity lets you track your equipment, see which machines are working, and know if they're being utilized properly and at maximum productivity and efficiency.
Enabled through JDLink, John Deere Connected Support leverages a suite of dealer and factory tools designed to deliver increased uptime and productivity, and lower daily operating costs.
Remote Diagnostics and Programming Capability within John Deere Connected Support helps your dealer warn you of any issue with your machine — often before you know of the problem yourself — and initiate solutions without charging you for a technician's visit to your jobsite.
Engine Manufacturer
John Deere
Engine Model
PowerTech Plus 6090PSS
Engine Output, kW (hp)
246 (330)
Engine Torque, Nm (lbf / ft)
1392 (1027)
Carrier Rollers - Each Side
2
Track Rollers - Each Side
9
Track Shoe Width, mm (inches)
610 (24)
Base Carrier Length, m (ft/in)
4.9 (16 ft 1 in)
Height Over Cab, mm (ft/in)
3550 (11 ft 8 in)
Overall Width, mm (ft/in)
3300 (10 ft 10 in)
Track Length On Ground, mm (ft/in)
3830 (12 ft 7 in)
Tailswing Radius, mm (ft/in)
3180 (10 ft 5 in)
Ground Clearance, mm (inches)
756 (30)
Superstructure Width, mm (ft/in)
3050 (10 ft )
Track Gauge, mm (ft/in)
2690 (8 ft 10 in)
Fuel Tank, ltr (gallons (US))
1080 (285)
Alternator Output, Amp
100 x 2
Travel Speed, kph (mph)
4.2 (2.6)
Tractive Force, kN (lbf)
322 (72300)
Lift Capacity - Maximum Reach, kg (lbs)
5890 (12990)
Reference Harvesting Head
FR22B
Felling Diameter, mm (inches)
559 (22)
Reference Head Saw Type
Disc
Reference Head Type
Felling
Cutting Radius - Maximum, mm (ft/in)
8880 (29 ft 1 in)
Cutting Radius - Minimum, mm (ft/in)
4870 (15 ft 11 in)
Cutting Swath Horizontal, mm (ft/in)
4010 (13 ft 2 in)
Pump Type
Variable Displacement Axial Piston
Pump Flow, lt/min (gallons (US) / min)
532 (141)
Operating Weight, kg (lbs)
31094 (68560)