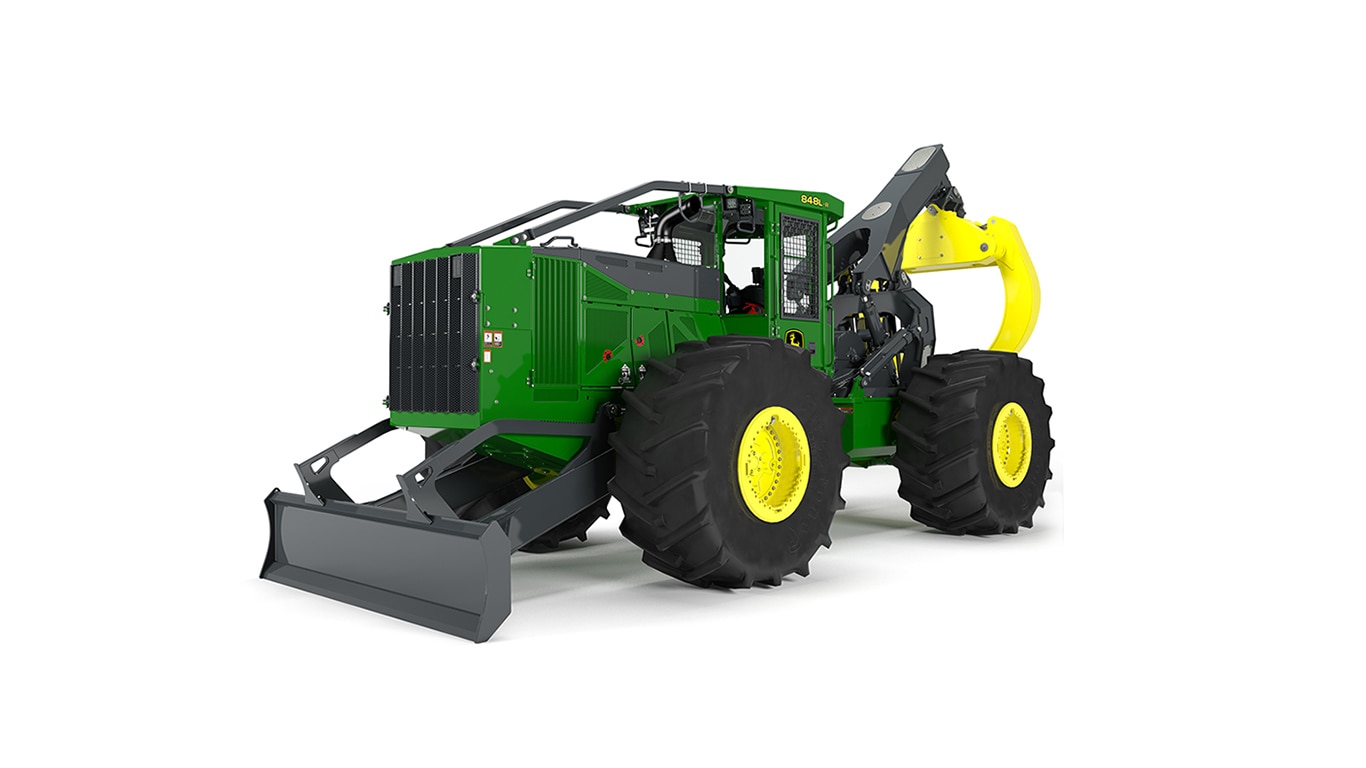 Skidder - 848L-II
Gross Power: 210 kW (281 hp)
Gross Torque: 1276 Nm (941 ft.-lb.)
Max. Grapple Capacity: 1.77 m2 (19.1 sq. ft.)
Operating Weight: 22 384 kg (49,499 lb.)
Simplified routing of the electrical and hydraulic systems helps boost reliability and ease maintenance. Wiring and hoses are placed for protection against wear and damaging bends.
Optional 17.7-square-meter (19.1 square foot) grapple on the 848L-II helps you deliver more wood to the landing with fewer skids. Grapple squeeze provides a constant pressure, so operators are less likely to lose a log, even if a load gets jarred.
Continuously variable transmission
The easy-to-use CVT transmission automatically senses the load and delivers more torque and tractive effort as needed to maintain the desired speed.
New steering sensors control articulation speed when nearing frame-to-frame contact, cushioning impact during full articulation and to enhancing operator comfort.
Standard Outboard-Extreme axles are designed with larger components to deliver maximum jobsite durability, along with a heavier weight to boost machine stability.
Take the guesswork out of planning, implementing, and monitoring your logging operation. The tools of our production-planning and -tracking system expand on the core technology features that come standard in every John Deere Forestry machine to unleash a powerful new array of possibilities:
TimberMatic™ Maps is an innovative onboard software solution that helps you reimagine your jobsites. Real-time production views, optimized routes, and shared wireless connections between machines make it easier than ever before to take your forestry operation to the next level.
TimberManager™ is a web-based solution for PCs, tablets, and mobile phones that allows you to follow jobsite progress. Combined with TimberMatic Maps, this software provides complete visibility of your operation — from land harvested to specific machines — so you can streamline communication, analyze tasks, and increase productivity.
John Deere Connected Support™
Your John Deere Forestry machine arrives from the factory equipped with a powerful set of technologies and capabilities already built in:
JDLink™ connectivity lets you track your equipment, see which machines are working, and know if they're being utilized properly and at maximum productivity and efficiency.
Enabled through JDLink, John Deere Connected Support leverages a suite of dealer and factory tools designed to deliver increased uptime and productivity, and lower daily operating costs.
Remote Diagnostics and Programming Capability within John Deere Connected Support helps your dealer warn you of any issue with your machine — often before you know of the problem yourself — and initiate solutions without charging you for a technician's visit to your jobsite.
Our advanced dual approach to Machine Health combines the expertise of the technology specialists at our dealerships with the data specialists at our central Machine Health Monitoring Center (MHMC).
Standard Arch Function
Dual
Engine Manufacturer
John Deere
Engine Model
PowerTech PSS 9.0L
Displacement, ltr (Inches³)
9 (549)
Engine Output, kW (hp)
210 (281)
Engine Torque, Nm (lbf / ft)
1276 (941)
Transmission
Continuous Variable Transmission
Service Brake Type
Inboard Wet discs
Parking Brake Type
Wet multi-disc in Transmission
Overall Length, mm (inches)
8469 (333.4)
Height Over Cab, mm (inches)
3454 (136)
Overall Width, mm (inches)
3575 (140.7)
Wheelbase, mm (inches)
3975 (156.5)
Dozer Blade Height, mm (inches)
691 (27.2)
Ground Clearance, mm (inches)
604 (23.7)
Dozer Blade Width, mm (inches)
2962.4 (116.6)
Dozer Blade - Dig Depth, mm (inches)
298 (11.7)
Tong Opening At Tips, mm (inches)
3785 (149)
Enclosure Area, m² (ft²)
1.63 (17.5)
Steering Articulation Angle, ± Degrees
45
Fuel Tank, ltr (gallons (US))
391.8 (103.5)
Hydraulic Tank, ltr (gallons (US))
123.6 (32.6)
Alternator Output, Amp
150
Travel Speed, kph (mph)
25 (15.53)
Oscillation Point
Front axle
Oscillation Angle, ± Degrees
15
Rated Line Pull, kN (lbf)
221 (49696)
Rated Line Speed, m/min (ft/min)
20.1 (66)
Operating Weight, kg (lbs)
22384 (49499)
Related Parts & Attachments