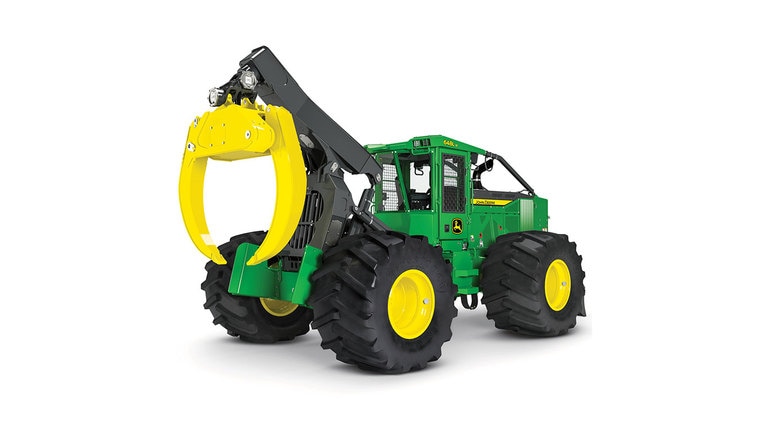 Grapple Skidder - 648L-II
Gross Power: 177 kW (237 hp)
Gross Torque: 1025 Nm (756 ft.-lb.)
Max. Grapple Capacity: 1.63 m2 (17.5 sq. ft.)
Operating Weight: 19 054 kg (42,159 lb.)
Continuously Variable Transmission (CVT) offers the best of both worlds
Overview
Offering loggers the best of both worlds, the Continuously Variable Transmission (CVT) combines the efficiency of the direct-drive transmission with the smoothness and ease of a hydrostatic drive.
Delivering efficient power to the ground, the CVT automatically senses the load before delivering more torque to maintain the operator's wanted speed.
The CVT also eliminates the need to shift gears, which shortens the learning curve for new operators, and helps the experienced pros maximize productivity.
Benefits
Constant engine speed helps provide superb multifunction performance

Easy to operate, especially for new operators

Defined ground speed limiters allow you to control your operating speed

No need to shift gears
Gain valuable insights with Precision Forestry solutions
Overview
Now included in base machine, the JDLink telematic system provides the foundation for John Deere's Precision Forestry solutions. These systems help optimize your machine, your uptime, and your jobsites, which ultimately lead to improved production efficiency.
Benefits
JDLink connectivity enables you to view several parameters of your machine, including its location, fuel level, average fuel burn rate, idle time, machine utilization, and much more
John Deere Connected Support™ allows the dealer to provide remote diagnostics, rapid service response with the right part in hand, and parts availability; all to maximize machine uptime
John Deere's centralized Machine Health Monitoring Center analyzes data from thousands of connected machines, identifies trends, and develops recommended actions to help prevent downtime
Optional TimberMatic Maps gives enhanced visibility to the jobsite, which streamlines communication and increases efficiency
TimberManager™ provides remote visibility to your operation from any device, allowing you to make smart business decisions based on real-time production data
Increase uptime with easy serviceability
Diesel fill
Grease banks
DEF fill
Overview
Easy access to service components helps confirm daily checks and perform any scheduled maintenance, which ultimately minimize unexpected downtime and costly repairs down the road. The L-II lineup of skidders feature removable engine panels for wide-open access to filters and fluid level checks. Swing out cooler doors and an automatic reversing fan provide effortless cleaning of debris from the coolers. Fluid fills including fuel, DEF, and hydraulic oil can all be easily accessed from ground level, as well as daily greasing points.
Benefits
Ground level daily maintenance
Swing out coolers for quick and easy cleaning
Detachable engine panels
Remote diagnostics via John Deere Connected Support
Wiring and hose routings are protected against debris intrusion
Simplified routing of the electrical and hydraulic systems
Extended filter-change interval for hydraulic filter service
More comfort for all day productivity
Overview
Designed by loggers for loggers, the quiet, spacious cab helps keep you more comfortable and productive – so you can boost your bottom line. The 4 m2 (43 sq ft) of window area, coupled with the 240-degree rotating seat, maximizes visibility to the task at hand while minimizing neck strain. Armrest-mounted electrohydraulic (EH) joysticks provide smooth and intuitive control of all machine functions at your fingertips. The EH joysticks also allow you to customize the button and lever layout to your preference and saves your settings when switching between operators.
Benefits
Large windows provide clear visibility to the drag
Rotating seat allows you to operate the machine while facing the front or rear
Optional light-emitting diode (LED) lights allow you to start earlier and work later
Customizable joystick patterns for multiple operators
Optional heated seat with leather trim
Standard Arch Function
Dual
Engine Manufacturer
John Deere
Engine Model
PowerTech PSS 6.8L
Displacement, ltr (Inches³)
6.8 (415)
Engine Output, kW (hp)
177 (237)
Engine Torque, Nm (lbf / ft)
1025 (756)
Transmission
Continuous Variable Transmission
Service Brake Type
Inboard Wet discs
Parking Brake Type
Wet multi-disc in Transmission
Overall Length, mm (inches)
8129 (320)
Height Over Cab, mm (inches)
3365 (132.5)
Overall Width, mm (inches)
3233 (127.3)
Wheelbase, mm (inches)
3680 (144.8)
Dozer Blade Height, mm (inches)
687.6 (27.1)
Ground Clearance, mm (inches)
557 (21.9)
Dozer Blade Width, mm (inches)
2192 (86.3)
Dozer Blade - Dig Depth, mm (inches)
359 (14.1)
Tong Opening At Tips, mm (inches)
3226 (127)
Enclosure Area, m² (ft²)
1.63 (17.5)
Steering Articulation Angle, ± Degrees
45
Fuel Tank, ltr (gallons (US))
391.8 (103.5)
Hydraulic Tank, ltr (gallons (US))
123.6 (32.6)
Alternator Output, Amp
150
Travel Speed, kph (mph)
24.74 (15.37)
Oscillation Point
Front axle
Oscillation Angle, ± Degrees
15
Rated Line Pull, kN (lbf)
221 (49696)
Rated Line Speed, m/min (ft/min)
27.4 (90)
Operating Weight, kg (lbs)
19054 (42159)