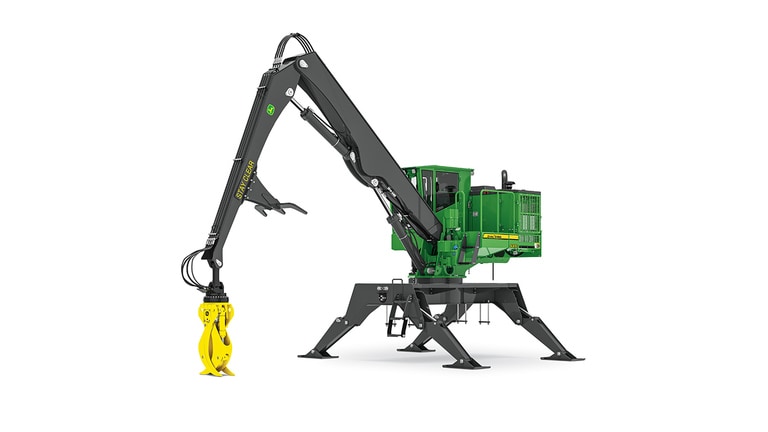 Knuckleboom Loader - 437E
Gross Rated Power: 129 kW (173 hp) at 2,000 rpm
Boom Reach: 9754 mm (32 ft. 0 in.)
Operating Weight: 15 909 kg (35,073 lb.)
Lift Capacity: 11 730 kg (25,860 lb.)
Redesigned cab-window guarding minimizes external barriers to expand visibility to the front while a lower left-rear hood profile opens up the view behind the machine.
Dedicated swing circuit provides the continuous power needed for productive delimbing and loading.
With a rotator designed for harsh pull-through delimbing applications, the Deere 52-inch grapple confidently grabs, lifts, and handles long, heavier trees. Vehicle hydraulics are tuned to match the grapple to enable precise operator control.
Simplified Electrical System
The wiring harnesses of the electronic controller-based electrical system have been simplified to reduce the number of fuses, relays, and wires by approximately 30 percent compared to previous models.
Take the guesswork out of planning, implementing, and monitoring your logging operation. The tools of our production-planning and -tracking system expand on the core technology features that come standard in every John Deere Forestry machine to unleash a powerful new array of possibilities:
TimberMatic™ Maps is an innovative onboard software solution that helps you reimagine your jobsites. Real-time production views, optimized routes, and shared wireless connections between machines make it easier than ever before to take your forestry operation to the next level.
TimberManager™ is a web-based solution for PCs, tablets, and mobile phones that allows you to follow jobsite progress. Combined with TimberMatic Maps, this software provides complete visibility of your operation — from land harvested to specific machines — so you can streamline communication, analyze tasks, and increase productivity.
John Deere Connected Support™
Your John Deere Forestry machine arrives from the factory equipped with a powerful set of technologies and capabilities already built in:
JDLink™ connectivity lets you track your equipment, see which machines are working, and know if they're being utilized properly and at maximum productivity and efficiency.
Enabled through JDLink, John Deere Connected Support leverages a suite of dealer and factory tools designed to deliver increased uptime and productivity, and lower daily operating costs.
Remote Diagnostics and Programming Capability within John Deere Connected Support helps your dealer warn you of any issue with your machine — often before you know of the problem yourself — and initiate solutions without charging you for a technician's visit to your jobsite.
Our advanced dual approach to Machine Health combines the expertise of the technology specialists at our dealerships with the data specialists at our central Machine Health Monitoring Center (MHMC).
Engine Manufacturer
John Deere
Engine Model
6068 HTJ57 PowerTech PVS
Displacement, ltr (Inches³)
6.8 (415)
Engine Output - Net, kW (hp)
119 (159)
Engine Output - Gross, kW (hp)
129 (173)
Engine Torque, Nm (lbf / ft)
750 (553.1)
Base Carrier Length, m (ft/in)
3.81 (12 ft 6 in)
Height Over Cab, mm (ft/in)
4112 (13 ft 6 in)
Stabilizer Footprint Length, m (ft/in)
3.81 (12 ft 6 in)
Superstructure Width, mm (ft/in)
2606 (8 ft 7 in)
Boom Horizontal Reach, m (ft/in)
9.754 (32 ft )
Slewing Angle, Degrees
360
Fuel Tank, ltr (gallons (US))
340 (90)
Hydraulic Tank, ltr (gallons (US))
151 (40)
Alternator Output, Amp
200
5ft lift @ 10ft radius, kg (lbs)
6180 (13625)
5ft lift @ 15ft radius, kg (lbs)
11730 (25860)
5ft lift @ 20ft radius, kg (lbs)
8690 (19158)
5ft lift @ 25ft radius, kg (lbs)
6950 (15322)
5ft lift @ 30ft radius, kg (lbs)
5570 (12280)
10ft lift @ 10ft radius, kg (lbs)
8980 (19798)
10ft lift @ 15ft radius, kg (lbs)
10500 (23149)
10ft lift @ 20ft radius, kg (lbs)
8160 (17990)
10ft lift @ 25ft radius, kg (lbs)
6780 (14947)
10ft lift @ 30ft radius, kg (lbs)
5710 (12588)
Operating Weight, kg (lbs)
15909 (35073)