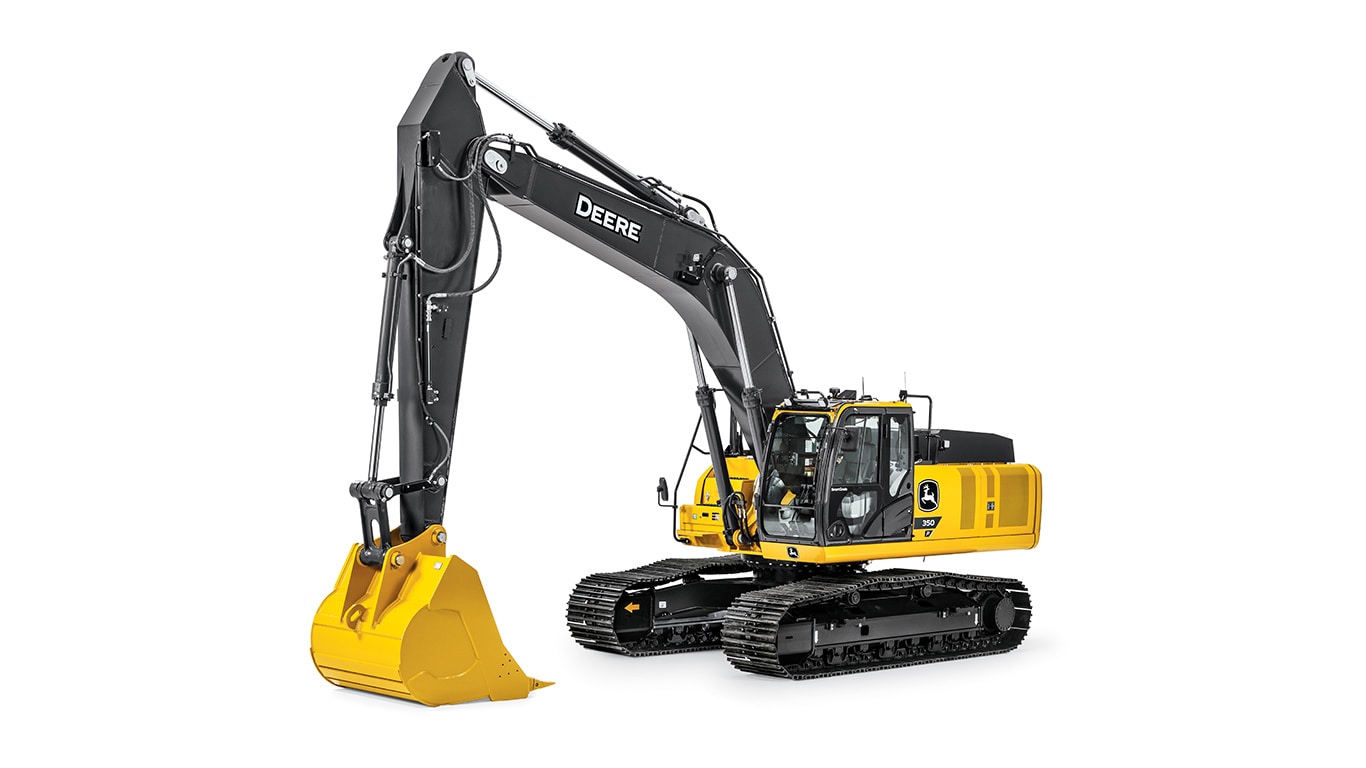 Mid-Size Excavator - 350 P-Tier
Net Power: 202 kW (271 hp)
Max. Digging Depth: 8.18 m (26 ft. 10 in.)
Operating Weight: 36 734 kg (80,985 lb.)
It's smart to get good grades
John Deere offers an economical way to adopt grade-management technology. Choose 2D or 3D Excavator Grade Guidance or opt for fully integrated SmartGrade™ for 3D control including overdig protection and in-cab real-time distance to target.
All grade-management solutions are factory ready and backed by your Deere dealer, including service, warranty, and financing.
Optional camera array with LED-surround lighting integrated into the main monitor work together to supplement 270-degree visibility of the area around the machine.
Centralized lubrication at arm tip and improved front joint-bushing design relocate the grease-entry point to push contamination out from the center. New design simplifies routine greasing to boost joint life.
Larger hood opening and individually serviceable coolers improve overall access around the front of the engine. Four bolts and a single electrical connector make fan maintenance quick and easy.
Electric, on-demand cooling fans ease engine load. In-line aftertreatment reduces system complexity and restriction. Larger front-piping diameter relieves hydraulic restriction, which combined lowers fuel consumption by up to seven percent compared to the 350G LC.
Sculpted mechanical-suspension high-back seat slides independent of the pilot-control console. Optional premium air-suspension leather seat is adjustable and heated/cooled. Ergonomically correct short-throw pilot levers provide smooth fingertip control. Push buttons in the right lever finesse auxiliary hydraulic flow for operating attachments. Wide expanse of front and side glass, narrow front cab posts, large overhead window, and numerous mirrors provide clear visibility.
Emission Rating
Tier 4 / Stage V
Engine Manufacturer
John Deere Power Tech
Displacement, ltr (Inches³)
9 (549)
Engine Output - Net, kW (hp)
202 (271)
Number Of Carrier Rollers - Each Side
2
Number Of Track Rollers - Each Side
8
Track Shoe Width, mm (inches)
800 (31)
Transport Length Mono Boom, mm (ft/in)
11200 (36 ft 9 in)
Transport Height - Maximum, mm (ft/in)
3270 (10 ft 9 in)
Overall Undercarriage Width, mm (ft/in)
3390 (11 ft 1 in)
Track Length On Ground, mm (ft/in)
4050 (13 ft 3 in)
Overall Undercarriage Length, mm (ft/in)
4940 (16 ft 2 in)
Tailswing Radius, mm (ft/in)
3600 (11 ft 10 in)
Ground Clearance, mm (inches)
500 (19.6)
Width over fixed tracks, mm (ft/in)
3390 (11 ft 1 in)
Track Gauge, mm (ft/in)
2590 (8 ft 6 in)
Digging Reach - Mono Boom, mm (ft/in)
11100 (36 ft 5 in)
Ground Level Reach - Mono Boom, mm (ft/in)
10890 (35 ft 9 in)
Dig Height - Mono Boom, mm (ft/in)
10360 (34 ft )
Dump Height - Mono Boom, mm (ft/in)
7240 (23 ft 9 in)
Dig depth - 2.44m / 8'ft flat bottom, mm (ft/in)
7210 (23 ft 8 in)
Dig Depth - Mono Boom, mm (ft/in)
7380 (24 ft 3 in)
Fuel Tank, ltr (gallons (US))
628 (166)
Hydraulic Tank, ltr (gallons (US))
193 (51)
Ground Bearing Pressure, kPa (PSI)
50.1 (7.27)
Swing Torque, kNm (lbf / ft)
120 (88500)
Travel Speed - High, kph (mph)
5 (3.1)
Tractive Force, kN (lbf)
297.5 (66900)
Dipper Tearout, kN (lbf)
185 (41590)
Bucket Breakout, kN (lbf)
246 (55303)
End lift - 7.5m Reach, kg (lbs)
10270 (22140)
Side lift - 7.5m Reach, kg (lbs)
6460 (13960)
Total Flow, lt/min (gallons (US) / min)
576 (152)
Bucket Pressure, bar (PSI)
343 (4975)
Boost Pressure, bar (PSI)
380 (5511)
Operating Weight, kg (lbs)
36734 (80985)
Related Parts & Attachments