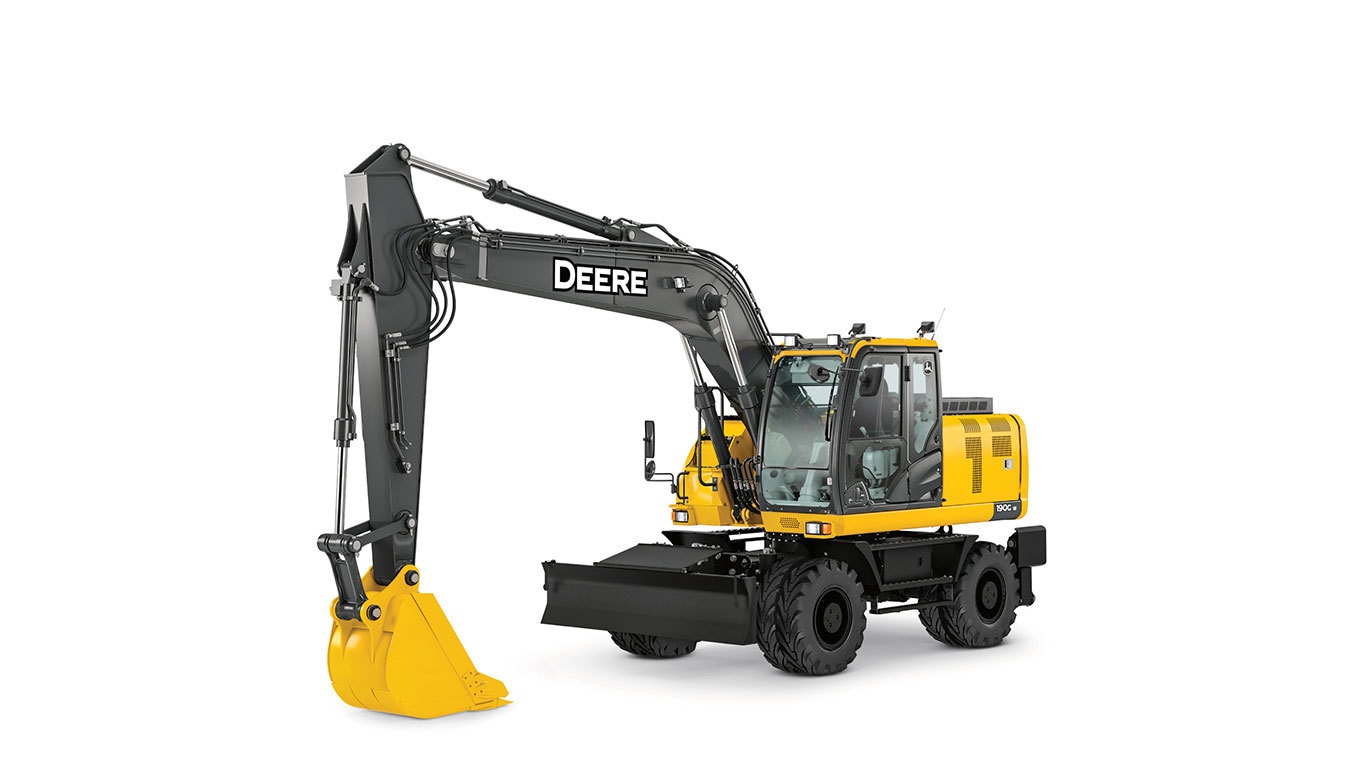 Mid-Size Excavator - 190G W
Net Power: 129 kW (173 hp)
Max. Digging Depth : 5.83 m (19 ft. 2 in.)
Operating Weight: 19,700 kg (43,431 lb.)
Redesigned 5.2-L 129-kW (173 net hp) diesel engine meets FT4 emission regulations without aftertreatment devices, for enhanced reliability.
Lightweight, split-type hood that allows wide-open access to the engine from the front and same-side filters and water separator at ground level simplify maintenance.
Ergonomically correct short-throw pilot levers provide smooth, predictable fingertip control with less movement and effort.
The F-N-R directional switch is now conveniently located on the left-hand pilot lever, making it easier to control the blade and stabilizer functions.
Three productivity modes allow you to choose the digging style that fits the job:
High-productivity delivers more power and faster hydraulic response to move more material.
Power delivers a balance of power, speed, and fuel economy for normal operation.
Economy limits top speed and helps save fuel.
New hood design, expanded front and side glass, narrow front cab posts, overhead glass, and numerous mirrors provide optimal visibility.
Swing open the side panels on either side of the machine to provide even more wide-open access to components.
Mono boom delivers the reach and lift capacity you need for long-distance work. Or opt for a two-piece boom for added versatility.
A John Deere exclusive, three welded bulkheads within the boom resist torsional stress for amazing durability.
Engine Manufacturer
Isuzu
Displacement, ltr (Inches³)
5.2 (317)
Engine Output - Net, kW (hp)
129 (173)
Tire size - Standard
10.00-20
Transport Length - Mono Boom, mm (ft/in)
9480 (31 ft 1 in)
Transport Height - Over Mono Boom, mm (ft/in)
3120 (10 ft 3 in)
Overall Width, mm (ft/in)
2450 (8 ft )
Tailswing Radius, mm (ft/in)
2320 (7 ft 7 in)
Wheelbase, mm (ft/in)
2650 (8 ft 8 in)
Cab Height, mm (ft/in)
3220 (10 ft 7 in)
Ground Clearance, mm (inches)
350 (14)
Standard Dipper Length, mm (ft/in)
2710 (8 ft 11 in)
Digging Reach - Mono Boom, mm (ft/in)
9580 (31 ft 5 in)
Ground Level Reach - Mono Boom, mm (ft/in)
9400 (30 ft 10 in)
Dump Clearance Height - Mono Boom, mm (ft/in)
6450 (21 ft 2 in)
Maximum Vertical Wall - Mono Boom, mm (ft/in)
5260 (17 ft 3 in)
Dig depth - 2.44m / 8'ft flat bottom Mono, mm (ft/in)
5640 (18 ft 6 in)
Dig Depth - Mono Boom, mm (ft/in)
5830 (19 ft 2 in)
Dozer Blade
Parallel action
Dozer Blade - Width, mm (ft/in)
2730 (8 ft 11 in)
Dozer Blade - Height, mm (inches)
590 (23)
End Lift - 4 Stabs Down At 7.5M GL Reach (Mono), kg (lbs)
4940 (10900)
Side Lift - 4 Stabs Down At 7.5M GL Reach (Mono), kg (lbs)
3370 (7420)
Fuel Tank, ltr (gallons (US))
290 (76.6)
Hydraulic Tank, ltr (gallons (US))
100 (26.4)
Slew Torque, kNm (lbf / ft)
53 (39090)
Tractive Force, kN (lbf)
93.5 (21020)
Low range fwd speed 1, kph (mph)
8.6 (5.3)
High range fwd speed 2, kph (mph)
35 (21.7)
Max bucket breakout, Mono Boom, kN (lbf)
126 (28330)
Main Pump
Variable axial piston
Main Pumps - Maximum Flow, lt/min (gallons (US) / min)
472 (124)
Boom Pressure, bar (PSI)
343 (4975)
Boost Pressure, bar (PSI)
363 (5265)
Mono weight with 4 stabs, kg (lbs)
20000 (44530)