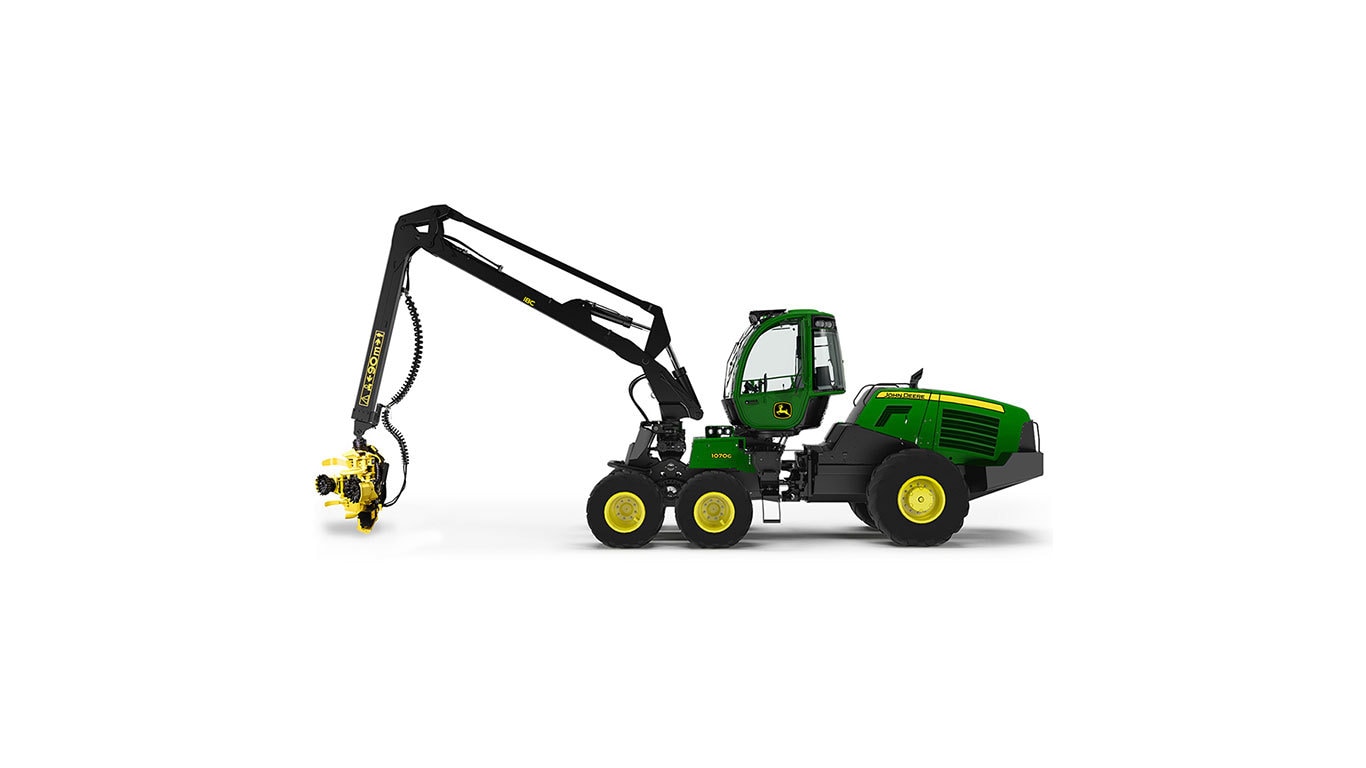 Wheeled Harvester - 1070G
Net Power: 136 kW (182 hp) at 2,000 rpm
Pump Capacity: 160 cm3 (9.7 cu. in.)
Boom Reach: 8.6 m (28.2 ft.) / 10 m (32.8 ft.) / 10.8 m (35.5 ft.)
Processing Power Control (PPC) lowers operating costs and increases productivity by five to 15 percent by balancing processing power and fuel economy in a variety of logging applications.
Revolutionary rotating cab tracks the boom up to 80 degrees in each direction so the operator can concentrate on the harvester head and the work at hand.
The electric-motor-powered engine hood is split into two sections and tilts up for fast, easy access to daily checkpoints. For access to internal components, simply swing open the service door.
Multiple Wheel Configurations Available
Choose from compact four- or six-wheeled options.
• A first in the harvester category, IBC provides operators with increased accuracy and productivity — bringing harvester capabilities to a whole new level.
• With IBC, the operator controls only the harvester head while the system takes care of the boom's movement. Designed specifically to suit the harvester work cycle, the boom's movement and operation automatically adjust as the boom is taken to a tree and when the tree is in the grapple. IBC enables precise working and the selection of the correct working methods.
RENCRAFT® Super Hard Coat polycarbonate windows are scratch resistant, tolerant of cleaning agents, and enhance optic quality. These windows comply with the ISO 21876 saw-chain shot-testing standard, proving their durability. Plus, due to their almost 50-percent thicker material than previous windows, the cab is better insulated, resulting in a quieter work environment.
Engine Manufacturer
John Deere
Engine Model
PowerTech Plus 6068
Displacement, ltr (Inches³)
6.8 (414)
Engine Output, kW (hp)
136 (182)
Engine Torque, Nm (lbf / ft)
850 (627)
Drive Configuration
6 x 6
Transmission Type
Hydrostatic-Mechanical
Base Carrier Length, mm (inches)
6990 (275.16)
Height Over Cab, mm (inches)
3730 (146.88)
Transport Height, mm (inches)
3730 (146.88)
Overall Width, mm (inches)
2663 (104.88)
Wheelbase, mm (inches)
3700 (145.68)
Ground Clearance, mm (inches)
570 (22.4)
Horizontal Reach, m (ft/in)
8.6 (28 ft 2 in)
Fuel Tank, ltr (gallons (US))
300 (79.3)
Hydraulic Tank, ltr (gallons (US))
160 (42.3)
Reference Harvesting Head
H412
Felling Diameter, mm (inches)
470 (18.5)
Delimbing Diameter, mm (inches)
370 (14.6)
Travel Speed, kph (mph)
24 (14.9)
Pump Capacity, cm³ (Inches³)
160 (9.7)
Operating Weight, kg (lbs)
16000 (35274)
Weight - With Reference Head, kg (lbs)
16000 (35274)
Related Parts & Attachments