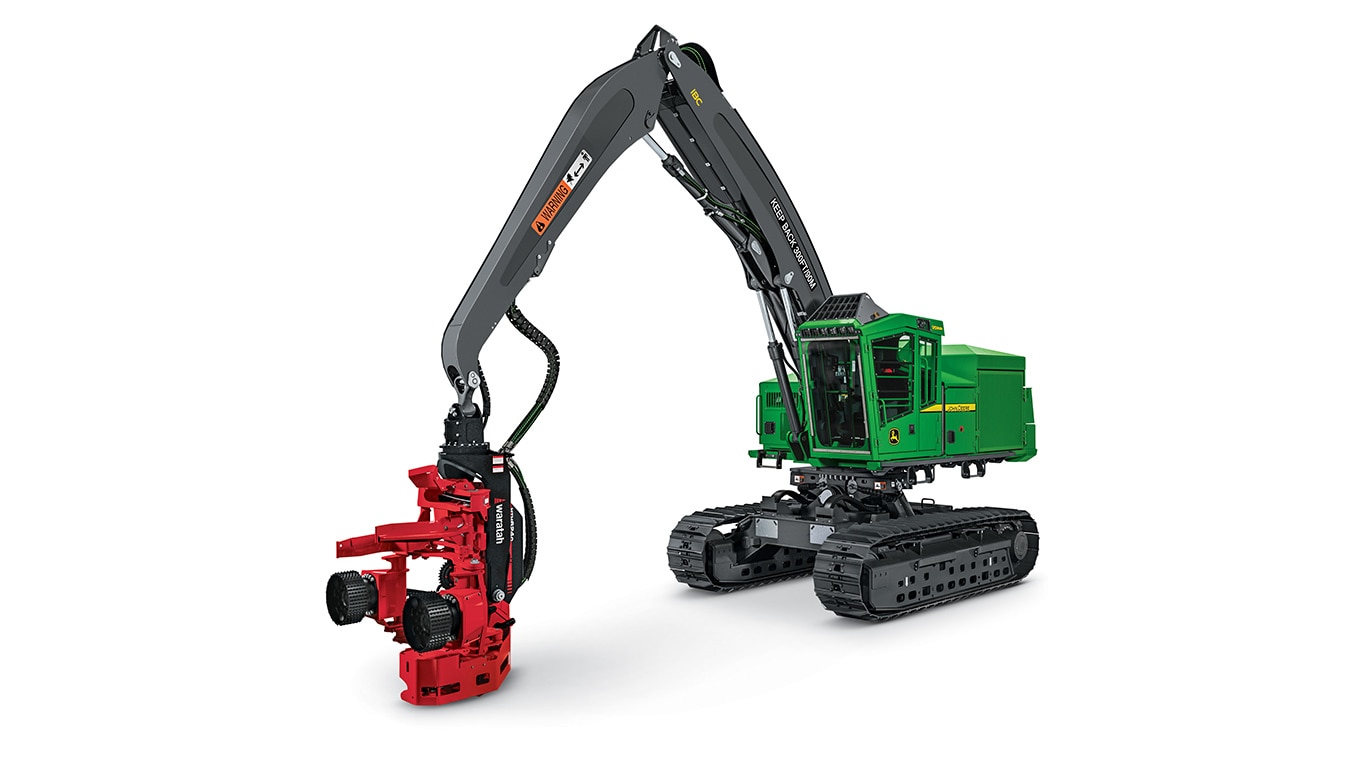 Tracked Harvester - 959MH
Net Power: 246 kW (330 hp) at 1,900 rpm
Max. Boom Reach: 10.34 m (33 ft. 11 in.)
Tractive Effort: 373 kN (83,880 lbf)
Optional Intelligent Boom Control (IBC)
With IBC, operators no longer need to control each independent boom function separately. Just control the attachment position, and IBC automatically guides the boom and cylinders accordingly. IBC also automatically controls swing speed based on the overall position of the attachment.
IBC is easily configurable to user preference, so operators can adapt their motions to the application. Individual user settings can be saved in up to eight separate profiles, to accommodate multiple skill and experience levels.
For applications requiring extended harvesting reach with less machine movement, optional 10.34-meter long boom reaches almost 34 feet either uphill or down.
Low Total Fluid Consumption
A heavy-duty John Deere PowerTech™ Plus 9.0L diesel engine delivers low total fluid consumption and high dependability.
The slope-monitoring system measures the actual ground-slope angle the machine is working on and displays it on the in-cab monitor, for more confident operation in tough steep-slope conditions.
Long and wide undercarriage combined with our industry-leading leveling system maximizes stability on steep slopes and other challenging terrain conditions.
Take the guesswork out of planning, implementing, and monitoring your logging operation. The tools of our production-planning and -tracking system expand on the core technology features that come standard in every John Deere Forestry machine to unleash a powerful new array of possibilities:
TimberMatic™ Maps is an innovative onboard software solution that helps you reimagine your jobsites. Real-time production views, optimized routes, and shared wireless connections between machines make it easier than ever before to take your forestry operation to the next level.
TimberManager™ is a web-based solution for PCs, tablets, and mobile phones that allows you to follow jobsite progress. Combined with TimberMatic Maps, this software provides complete visibility of your operation — from land harvested to specific machines — so you can streamline communication, analyze tasks, and increase productivity.
John Deere Connected Support™
Your John Deere Forestry machine arrives from the factory equipped with a powerful set of technologies and capabilities already built in:
JDLink™ connectivity lets you track your equipment, see which machines are working, and know if they're being utilized properly and at maximum productivity and efficiency.
Enabled through JDLink, John Deere Connected Support leverages a suite of dealer and factory tools designed to deliver increased uptime and productivity, and lower daily operating costs.
Remote Diagnostics and Programming Capability within John Deere Connected Support helps your dealer warn you of any issue with your machine — often before you know of the problem yourself — and initiate solutions without charging you for a technician's visit to your jobsite.
Our advanced dual approach to Machine Health combines the expertise of the technology specialists at our dealerships with the data specialists at our central Machine Health Monitoring Center (MHMC).
Engine Manufacturer
John Deere
Engine Model
PowerTech Plus 6090 PSS
Displacement, ltr (Inches³)
9 (549)
Engine Output, kW (hp)
246 (330)
Engine Torque, Nm (lbf / ft)
1392 (1027)
Carrier Rollers - Each Side
2
Track Rollers - Each Side
9
Track Shoe Width, mm (inches)
610 (24)
Height Over Cab, mm (ft/in)
4030 (13 ft 3 in)
Width, mm (ft/in)
3200 (10 ft 6 in)
Overall Track Length, mm (ft/in)
4900 (16 ft 1 in)
Track Length On Ground, mm (ft/in)
3810 (12 ft 6 in)
Tailswing Radius, mm (ft/in)
3180 (10 ft 5 in)
Ground Clearance, mm (ft/in)
747 (2 ft 5 in)
Superstructure Width, mm (ft/in)
3200 (10 ft 6 in)
Slewing Angle, Degrees
360
Cab Leveling tilt (Forward), Degrees
26
Cab Leveling tilt (Rear), Degrees
14
Cab Leveling tilt (Side), ± Degrees
7
Fuel Tank, ltr (gallons (US))
1080 (285)
Alternator Output, Amp
100
Travel Speed, kph (mph)
3.6 (2.2)
Reference Harvesting Head
Waratah HTH624C
Felling Diameter, mm (inches)
810 (31.9)
Delimbing Diameter, mm (inches)
760 (29.9)
Cutting Radius - Maximum, mm (ft/in)
9120 (29 ft 11 in)
Cutting Radius - Minimum, mm (ft/in)
3680 (12 ft 1 in)
Cutting Swath Horizontal, mm (ft/in)
5440 (17 ft 10 in)
Pump Flow, lt/min (gallons (US) / min)
532 (141)
Operating Weight, kg (lbs)
40914 (92916)
Weight - With Reference Head, kg (lbs)
40914 (92916)
Weight - Without Reference Head, kg (lbs)
37454 (85286)
Related Parts & Attachments