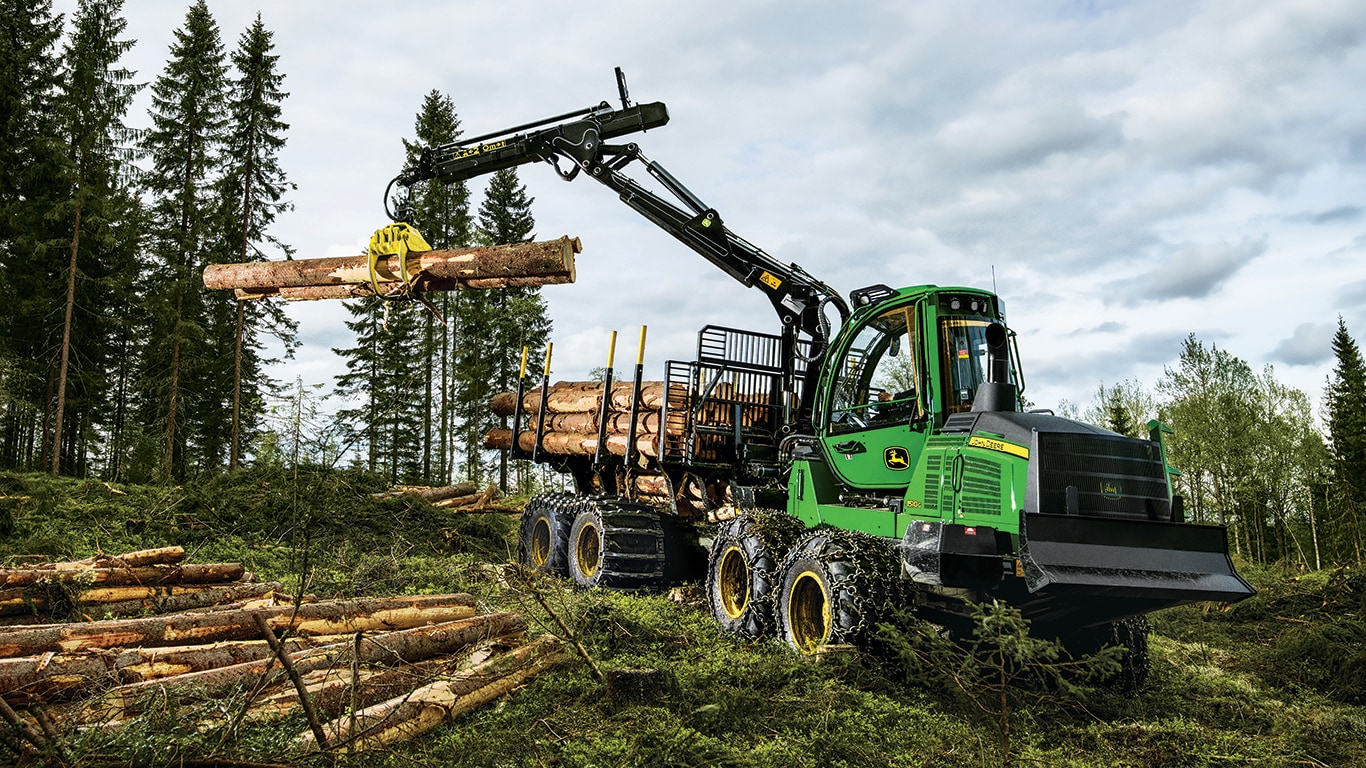 Forwarder - 1510G
Net Power: 164 kW (220 hp) at 1,700–1,900 rpm
Boom Reach: 8.5 m (27.9 ft.) / 10 m (32.8 ft.)
Tractive Force: 185 kN (41,588 lbf)
Load Rating: 15 000 kg (33,069 lb.)
Rotating, self-leveling cab turns 290 deg. for an all-around view of boom movements and the jobsite, for safe, efficient log loading.
TimberLink™ Automatic Monitoring
Exclusive TimberLink automatic monitoring system keeps an eye on operating costs while tracking machine performance and efficiency.
Work-cycle information, such as loading and driving times can be used to fine-tune settings and improve operator technique.
TimberMatic™ Control System
TimberMatic F-12 control system delivers fine-tuned hydraulics, for effortlessly smooth forwarder functions.
Optional Intelligent Boom Control eases boom operations, making them more precise and productive.
Joysticks are configurable to user preference, so operators can run IBC using their preferred control patter.
Long-bogie versions deliver more ground pressure for logging in soft terrain, as well as better stability in rocky conditions.
Engine Manufacturer
John Deere
Engine Model
PowerTech Plus 6068
Displacement, ltr (Inches³)
6.8 (414.9)
Engine Output, kW (hp)
164 (220)
Engine Torque, Nm (lbf / ft)
978 (721)
Drive Configuration
8 x 8
Transmission
Hydrostatic-Mechanical
Std tire size front
26.5 - 20
Std tire size rear
26.5 - 20
Base Carrier Length, mm (inches)
9820 (386.4)
Transport Height, mm (inches)
3800 (150)
Width, mm (inches)
2956 (116.4)
Wheelbase, mm (inches)
4900 (193.2)
Ground Clearance, mm (inches)
660 (26)
Width - Fixed Bunk, mm (inches)
2958 (116.4)
Horizontal Reach, m (ft/in)
7.2 (23 ft 7 in)
Load Length, mm (inches)
4500 (177.6)
Fuel Tank, ltr (gallons (US))
167 (44)
Hydraulic Tank, ltr (gallons (US))
161 (43)
Alternator Output, Amp
150
Lifting Moment - Standard Crane, kNm (lbf / ft)
125 (92)
Load Capacity, tonnes (tons (short))
15 (16.534)
Travel Speed, kph (mph)
23 (14.3)
Tractive Force, kN (lbf)
185 (41588)
Pump Capacity, cm³ (Inches³)
180 (11)
Operating Weight, kg (lbs)
18230 (40190)
Related Parts & Attachments