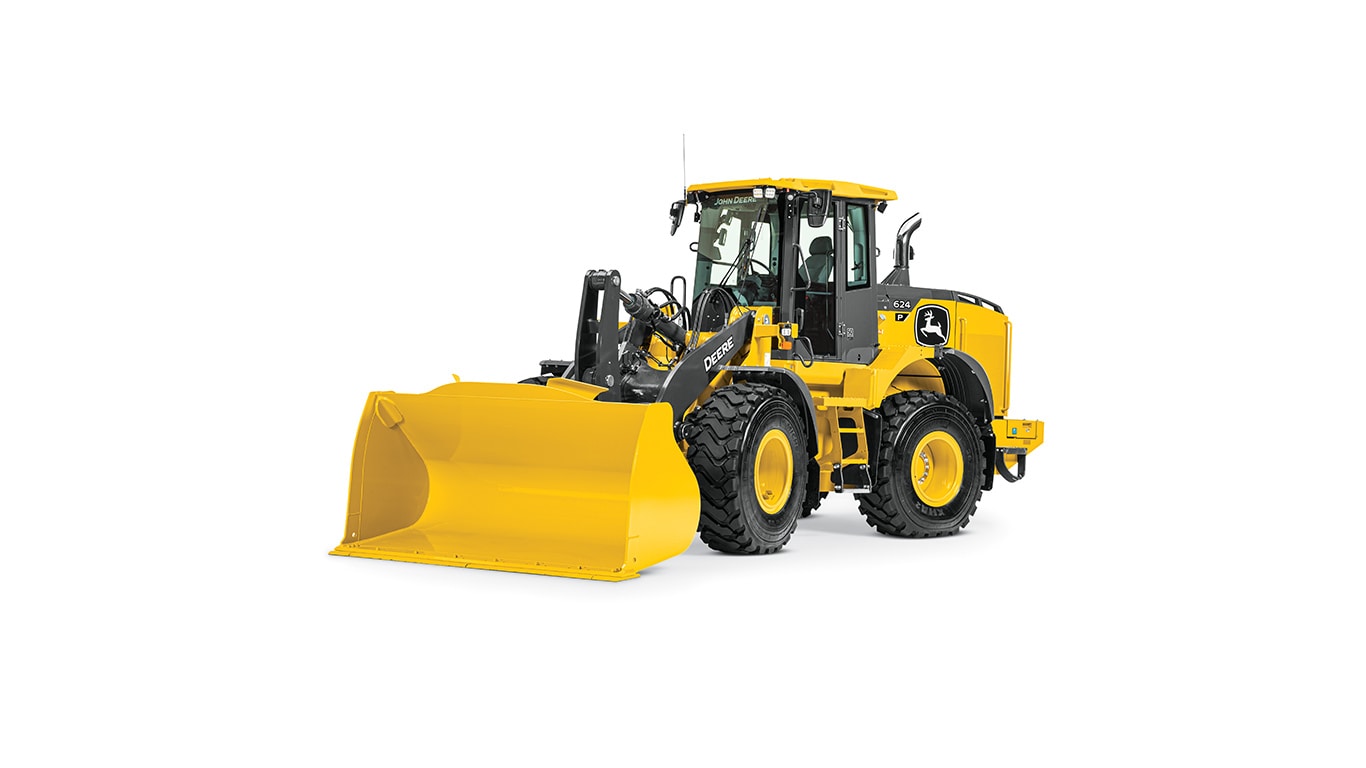 Mid-Size Wheel Loader - 624 P-Tier
Net Power: 143 kW (192 hp) at 1,600 rpm
Operating Weight: 15 747–15 790 kg (34,715–34,810 lb.)
Bucket Capacity: 1.9–4.0 m3 (2.5–5.25 cu. yd.)
Reach higher and move more material with Z-Bar linkage and bucket improvement
Overview
The Z-Bar linkage has been completely redesigned to improve visibility and provide a high degree of parallelism while the upgrades made to the enhanced performance bucket offerings help increase productivity.
Benefits
Cross tube and boom geometry changes mean improved visibility to front attachments when operating and changing attachments.
Standard 8 degrees of parallelism minimizes load roll back when using forks to improve load leveling
High-Lift Plus linkage adds an additional 304.8 mm (12 in.) of hinge pin height over High-Lift linkage and 609.6 mm (24 in.) of hinge pin height over standard linkage
Bucket material retention has been improved by providing a 15 degree increase in bucket rollback to reduce material spillage
Curved side cutters and integrated spill guards improve bucket fill rates
All day comfort in the redesigned cab
Overview
The redesigned cab in the John Deere utility loader lineup features improvements that provide the operator a first-class work environment with a range of creature comfort options to keep operators comfortable and productive no matter the task at hand.
Benefits
An additional 3 in. of leg room has been added over the previous series loaders
Dual tilt steering column allows for dual tilt between the column and wheel to allow operators to customize the position of the steering wheel to their needs
Additional 12V accessory outlets have been strategically placed for proper powering of devices and a USB port has been added for connecting to the radio
Auxiliary accessory mounting points are strategically placed on the right front and rear cab posts for equipment such as a payload scale interface or CB radio
Upgraded HVAC system to improve cooling capacity, more precise control and increased reliability and durability.

The AC unit has been relocated to the right side of the cab for easier access and service
The fresh air filter exchange is made through the top of the unit located outside the cab. This allows the dirty filter to be replaced completely outside of the operator compartment
Brushless motor provides infinite fan speeds, quieter operation, and increased airflow
Standard blower vent behind the seat for rear window defog that is adjustable to control direction of air flow.

The sealed switch module has been updated and relocated on L-series and P-tier loaders. The new location brings the switches to the operator's line of sight during operation for quick reference and ease of selection and has updated and new functions included.

Selecting the About button on the main menu of the monitor, then going down to SSM feature button the next screen takes you to a menu where you can view each button on the SSM and learn more about each feature.
Increase the loader's functionality with electrohydraulic (EH) controls
Overview
Electrohydraulic (EH) controls allow for increased functionality to customize machine operations based on operator preference to increase productivity on a range of jobsite applications
Benefits
Enable soft hydraulic stops to select how abrupt the bucket or boom stops when they reach the end of travel or when the lever of the joystick is released
Personalize multi-function buttons 1 and 2 through 10 options within the monitor including bucket vibrate that creates a slight vibrating action for precise control when dumping specific material or EH Precision Mode that allows for fine metering of bucket or boom movement.
Set and store up to 10 different attachment configuration settings including flow, responsiveness, and other modes through the monitor for the most frequently used attachments in your fleet.
Service improvements and capabilities to keep the loader working all day
Overview
With improvements to the electrical and hydraulic routing and features like ground level servicing and Quad-Cool, customers get an upgraded serviceability experience while building upon known features that they've come to expect from John Deere Wheel Loaders
Benefits
Wire harness routing has been enhanced and additional retention points have been added to reduce rubbing
Elimination of at least 40 hydraulic leak points over previous series machine in addition to 4 less crossings on a 2-hydraulic function loader.
The pump manifold has been removed from the articulation area to simplify the entire system for ease of service.
Controllers and fuse panels are all protected from the environment while also being more serviceable from inside the cab of the machine.
Ground-level daily service checks and fuel refill are conveniently grouped at ground level on the left side of the machine for easy access
Application specific configurations and packages to enhance overall versatility
Configuration and package optionality ensures that the machine is tailored to perform at its best in applications like waste handling, agriculture material handling, or when being utilized for fork work
Tool Carrier linkage option on the 524 P and 624 P provides an open line of sight to attachments like forks and is a great fit for applications using forks or grapples
Waste Handler and Ag Material Handling packages allow the correct machine features to be added to machines that will be spending their time predominantly in any of those applications
Optimize Cooling with Deere Exclusive Quad-Cool™
Overview
The Quad-Cool Cooling System on loaders is a John Deere exclusive that places the radiator, air-conditioner condenser, intercooler, and hydraulic, transmission, and axle coolers in a unique boxed configuration that is isolated from engine heat to more efficiently cool these components throughout the day.
Benefits
The coolers are arranged in a manner that the operator has wide open access to both sides of them ensuring that all debris collected in the coolers can be cleaned out
Cool-on-demand hydraulically driven variable speed fan is included with the speed of the fan being determined by the machine fluid temperatures resulting in better fuel economy and optimized cooling.
Engine Manufacturer
John Deere
Engine Model
PowerTech PVS 6068
Emission Rating
Tier 4 / Stage V
Displacement, ltr (Inches³)
6.8 (414)
Engine Output - Net, kW (hp)
143 (192)
Torque, Nm (lbf / ft)
923 (681)
Transmission Type
Powershift
Front Differential Type
Locking
Rear Differential Type
Open
Tire size - Standard
20.5 R25
Service Brake - Type
Wet Disc
Service Brake - Location
All Wheels
Service Brake - Actuation
Hydraulic
Parking Brake - Type
Wet Multi Disc
Height - Over Cab, mm (ft/in)
3400 (11 ft 2 in)
Wheelbase, mm (ft/in)
3090 (10 ft 1 in)
Length - Including Bucket, mm (ft/in)
7760 (25 ft 6 in)
Ground clearance, mm (inches)
384 (15.1)
Width Over tires - Std, mm (ft/in)
2657 (8 ft 8 in)
Height - Pivot Pin, mm (ft/in)
3960 (13 ft )
Reach - At 2130mm 45° Dump, mm (ft/in)
1590 (5 ft 2 in)
Turning Circle - Maximum, mm (ft/in)
12040 (39 ft 6 in)
Fuel Tank, ltr (gallons (US))
299 (79)
Hydraulic Tank, ltr (gallons (US))
102.8 (27.2)
Axle - Front, ltr (gallons (US))
22 (5.75)
Axle - Rear, ltr (gallons (US))
17 (4.5)
Transmission, ltr (gallons (US))
27 (7.125)
Heaped Capacity, m³ (yd³)
2.7 (3.5)
Smallest bucket capacity, m³ (yd³)
2.7 (3.5)
Largest bucket capacity, m³ (yd³)
2.9 (3.75)
Breakout - Bucket , kgf (lbf)
13605 (29994)
Ride Control System
Optional
Alternator Output, Amp
130
Pump Flow - 1, lt/min (gallons (US) / min)
261 (69)
System Pressure, bar (PSI)
248.21 (3675)
Operating Weight, kg (lbs)
15747 (34715)