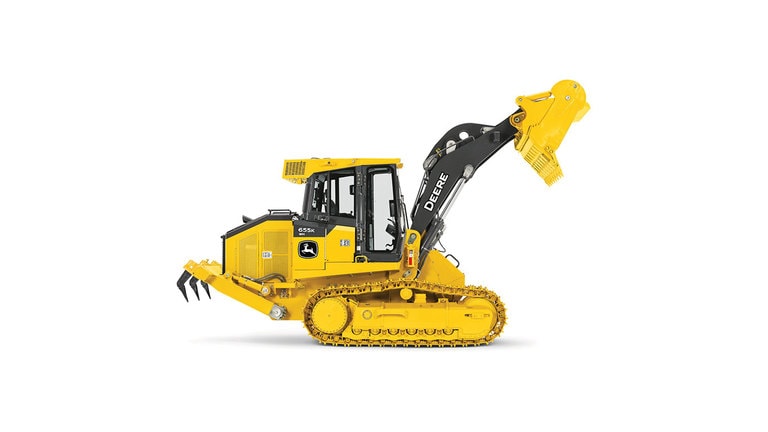 Crawler Loader - 655K
Net Power: 116 kW (155 hp) at 1,400 rpm
Operating Weight: 18 422 kg (40,614 lb.)
Heaped Capacity: 1.9 m3 (2.4 cu. yd.)
Breakout Force: 148 kN (33,271 lbf)
Achieve comfort and increased productivity in a spacious cab
Overview
Looking for a way to increase productivity by keeping operators comfortable? All K-Series cabs are comfortable, quiet, and more spacious than previous models. Operators will appreciate fatigue-beating ergonomics that include extensive leg room, wide doorways, and user-friendly pull-type latches to ease entry and exit from both sides of the machine.
Benefits
Quietly go about your business – Viscous cab mounts, rear acoustical glass, and extensive insulation effectively isolate operators from vibration and noise.
Calm, cool, and collected – Air conditioning is standard. Numerous directional vents keep the glass clear and interior comfortable, while the pressurized cab keeps outside contaminants to a minimum.
Sit back and relax – Standard high-back air-suspension seat adjusts multiple ways for all day comfort and support. A deluxe heated and leather-bolstered seat is optional.
Simple conveniences – A 12-volt power port, tinted windows, and AM/FM/Weather-Band (WB) radio and clock make it easy for operators to settle in and stay focused on the task at hand.
Eliminate downtime with increased serviceability
Overview
Uptime on a jobsite isn't demanded, it's expected. Ensuring you have reliable equipment, and the ability to conveniently perform daily service checks and maintenance is key. Easy to access service doors, onboard diagnostics, automatic filter cleaning, and an innovative cooling system set John Deere crawler loaders apart from the competition.
Benefits
Built to last – Heavy-duty undercarriage is sealed and lubricated for maximum wear resistance.
Diagnostic messaging – Easy-to-navigate liquid-crystal display (LCD) monitor displays diagnostic messages if problems occur and offers possible solutions to get back up and running quickly.
Free of debris – Swing-out side shields and tilt-out grille enable access to both sides of the coolers for low effort debris removal.
Quad-Cool™ system – Quad-Cool™ places the radiator, air-conditioner condenser, intercooler, and hydraulic, transmission, and axle coolers in a boxed configuration that is isolated from engine heat.
Easy to read – Hydrostatic and hydraulic pressures can be read via the in-cab monitor, making it easy for operators and technicians to check important system pressures.
Increase functionality of the loader with electro-hydraulic (EH) controls
Overview
State-of-the-art controls put a crawler loader operator in complete command of a whole arsenal of highly productive hydrostatic (HST) advantages. HST steering eliminates steering clutches and brakes and enables single-lever steering, speed, direction control, and counterrotation. With different options to choose from for both hydraulic and transmission controls, operators can select the layout that will best fit their style.
Benefits
HST Advantages - Full power turns and infinitely variable track speeds provide unlimited maneuverability and optimum control.
Choice of controls – Single-lever joystick or two- or three-lever hydraulic controls? Joystick F-N-R or V-pattern transmission lever with steering pedals?
Smooth operator – Smooth, predictable-response controls virtually eliminate jerky and abrupt movements.
Push-button throttle – Control the throttle in full or incremental adjustments using buttons on the sealed switch module (SSM).
Maximum fuel economy without loss of performance
Overview
Proven technology and a building block approach based on a solid foundation of reliable John Deere engines has led to the integration of Final Tier 4 (FT4) engines in K-series crawler loaders. The PowerTech™ PVS 6.8L engine includes familiar components such as electronic injectors, 4-valve cylinder head, turbocharger, cooled exhaust gas recirculation (EGR), diesel oxidation catalyst (DOC), and diesel particulate filter (DPF). The engine is fully integrated into the design of crawler loaders, allowing for optimized performance and maintenance.
Benefits
More power – With the change to FT4, horsepower has increased to 155hp on the 655K and 194hp on the 755k.
Eco mode – Standard Eco mode automatically adjusts engine power and transmission settings based on load while maintaining ground speed, optimizing fuel economy while maintaining performance.
Fuel efficiency – Auto-idle reduces engine speed when the machine is not moving and no functions are activated, and auto shutdown automatically turns the engine off after an operator-determined period of inactivity.
Power management and infinite speed control
Overview
Crawler loaders equipped with a hydrostatic (HST) drivetrain keep operation simple and provide the confidence to conquer any task. The dual-path HST transmission delivers smooth moves, infinite speed control, and live power turns that push a full load without spilling material. For unmatched durability and maneuverability, each track is individually powered with its own pump and motor. Multiple operator preference settings are available, giving operators the flexibility to tailor machine operating characteristics.
Benefits
Easy control – Low-effort controls command the full-featured HST drivetrain, providing smooth, predictable responses at all times, across all conditions.
Adjustable Transmission and Hydraulic Settings – Allows operators to customize operating characteristics and response for superb, one-of-a-kind control.
Constant power to both tracks - Allows operators to carry heavy loads through turns and counter-rotate both tracks while in gear and in neutral.
Peak performance – Simply set maximum desired ground speed, and the power-management system automatically maintains peak engine rpm and power efficiency without stalling or shifting.
Engine Manufacturer
John Deere
Engine Model
PowerTech PVS 6068
Displacement, ltr (Inches³)
6.8 (415)
Engine Output - Net, kW (hp)
116 (155)
Transmission type
Hydrostatic
Final drive type
In-line Drive Motor - Double Reduction Planetary
Track rollers per side - std
6
Track shoe pitch, mm (inches)
190 (7.5)
Track shoe width, mm (inches)
510 (20)
Ground Contact Area, cm² (Inches²)
24622 (3816)
Track shoes per side - std
38
Overall length, mm (ft/in)
6735 (22 ft 1 in)
Max. height, mm (ft/in)
3120 (10 ft 3 in)
Track length on ground, mm (inches)
2414 (95)
Ground clearance, mm (inches)
395 (15.6)
Track gauge - standard, mm (ft/in)
1740 (5 ft 9 in)
Shovel 1 width, mm (ft/in)
2470 (8 ft 1 in)
Shovel 1 dump height 45° max, mm (ft/in)
2665 (8 ft 9 in)
Bucket pin height, mm (ft/in)
3710 (12 ft 2 in)
Bucket reach - max, mm (ft/in)
1036 (3 ft 5 in)
Digging depth, mm (inches)
152 (6)
Steering clutches and brakes
No
Fuel tank capacity, ltr (gallons (US))
263 (69.5)
Implement hydraulic tank, ltr (gallons (US))
121.5 (32.1)
Shovel 1 capacity, m³ (yd³)
1.9 (2.4)
Ground bearing pressure - standard, kPa (PSI)
73.7 (10.7)
Static tipping load shovel 1, kg (lbs)
12443 (27432)
Breakout force - max, kN (lbf)
148 (33271)
Alternator output, Amp
100
Pump type
Piston Pump - Load Sensed
Pump flow, lt/min (gallons (US) / min)
189 (50)
Relief pressure, kPa (PSI)
26028 (3775)
Operating weight std, kg (lbs)
18422 (40614)