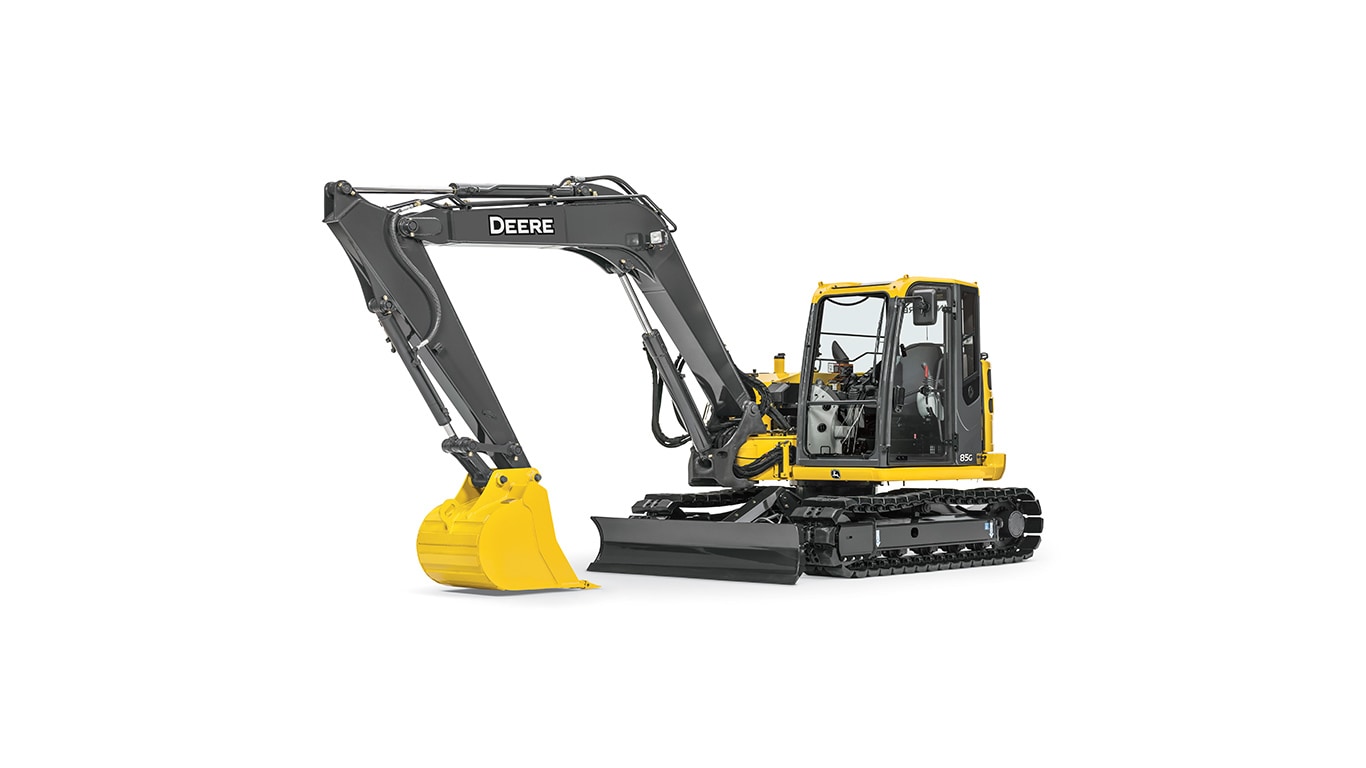 Mid-Size Excavator - 85G
Net Power: 42.4 kW (56.9 hp)
Max. Digging Depth: 4.51 m (14 ft. 10 in.)
Operating Weight: 8729 kg (19,244 lb.)
The EPA FT4/EU Stage IV engine employs field-proven cooled exhaust gas recirculation (EGR) for reducing NOX, and a diesel particulate filter and diesel oxidation catalyst to reduce particulate matter.
Viscous fan continuously adjusts speed as necessary for effective cooling. Helps reduce noise and fuel consumption, too.
Ergonomically correct short-throw pilot levers increase control and minimize effort.
Engine performance and hydraulic flow are perfectly balanced for predictable operation.
Two productivity modes allow you to choose the digging style that fits the job.
Power delivers a balance of speed and fuel economy for normal operation.
Economy reduces top speed and helps save fuel.
Reduced-tail-swing configuration provides extra flexibility, enabling the 85G to maneuver nimbly and work efficiently in and around congested conditions.
Independent-swing boom enables work close to curbs, parallel to structures, or alongside traffic.
Wide expanse of front and side glass, narrow front cab posts, large tinted overhead hatch, and numerous mirrors provide virtually unrestricted all-around visibility.
Large hinged doors provide wide-open access to service items. Lube banks, filters, and checkpoints are grouped for added convenience.
Engine Manufacturer
Yanmar
Number Of Cylinders (Per Engine)
4
Displacement, ltr (Inches³)
3.3 (202)
Engine Output - Net, kW (hp)
42.4 (56.9)
Number Of Carrier Rollers - Each Side
1
Number Of Track Rollers - Each Side
5
Track Shoe Width, mm (inches)
450 (18)
Transport Length Mono Boom, mm (ft/in)
6820 (22 ft 5 in)
Transport Height - Maximum, mm (ft/in)
2610 (8 ft 7 in)
Overall Undercarriage Width, mm (ft/in)
2200 (7 ft 3 in)
Track Length On Ground, mm (ft/in)
2290 (7 ft 6 in)
Undercarriage Overall Length, mm (ft/in)
2920 (9 ft 7 in)
Tailswing Radius, mm (ft/in)
1490 (4 ft 11 in)
Ground Clearance, mm (inches)
360 (14)
Dozer Blade Height, mm (inches)
460 (18)
Dozer Blade Width, mm (ft/in)
2200 (7 ft 3 in)
Width over standard tracks, mm (ft/in)
2200 (7 ft 3 in)
Track Gauge, mm (ft/in)
1750 (5 ft 9 in)
Digging Reach - Mono Boom, mm (ft/in)
7700 (25 ft 3 in)
Ground Level Reach - Mono Boom, mm (ft/in)
7550 (24 ft 9 in)
Dig Height - Mono Boom, mm (ft/in)
7140 (23 ft 5 in)
Dump Height - Mono Boom, mm (ft/in)
5080 (16 ft 8 in)
Dig depth - 2.44m / 8'ft flat bottom, mm (ft/in)
4200 (13 ft 9 in)
Dig Depth - Mono Boom, mm (ft/in)
4510 (14 ft 10 in)
Standard Dipper, mm (ft/in)
2120 (6 ft 11 in)
Fuel Tank, ltr (gallons (US))
120 (31.7)
Hydraulic Tank, ltr (gallons (US))
56 (15)
Ground Bearing Pressure, kPa (PSI)
41.5 (6)
Slew Torque, kNm (lbf / ft)
16.6 (12244)
Travel Speed - High, kph (mph)
5 (3.1)
Tractive Force, kN (lbf)
65.2 (14661)
Dipper Tearout, kN (lbf)
30.7 (6902)
Bucket Breakout, kN (lbf)
46.6 (10476)
Main Pumps - Maximum Flow, lt/min (gallons (US) / min)
144 (38)
Bucket Pressure, bar (PSI)
260 (3771)
Operating Weight, kg (lbs)
8729 (19244)
Related Parts & Attachments