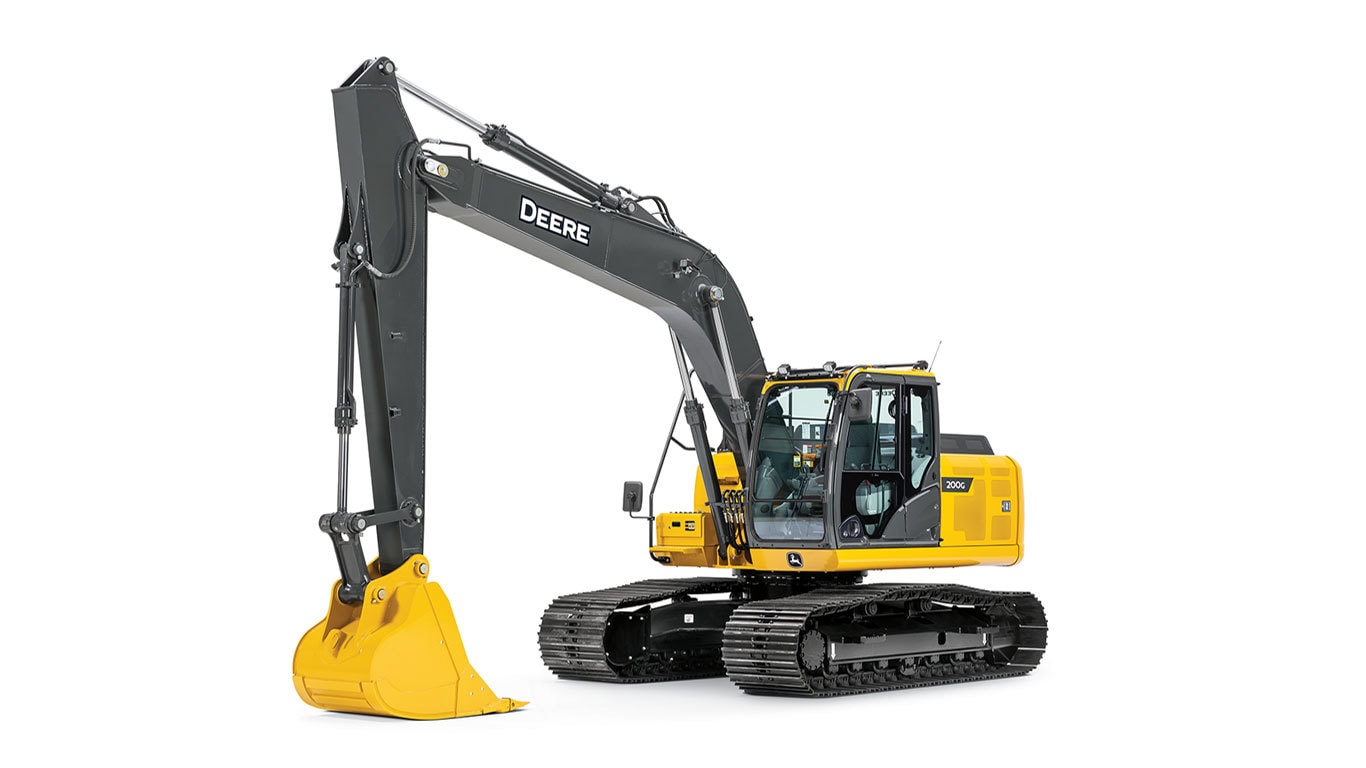 Mid-Size Excavator - 200G
Net Power: 108 kW (145 hp)
Max. Digging Depth: 7.07 m (23 ft. 2 in.)
Operating Weight: 20 788 kg (45,789 lb.)
The EPA FT4/EU Stage IV engine employs field-proven cooled exhaust gas recirculation (EGR) for reducing NOX, easy-to-maintain high-uptime exhaust filters, and selective catalytic reduction (SCR) to reduce particulate matter.
Ash-service intervals for the diesel particulate filter (DPF) are condition based, with the machine notifying the operator before service is required.
Highly efficient hydraulically driven fans run only as fast as needed, reducing noise, fuel consumption, and operating costs. Reversing option automatically back-blows cooler cores to keep them clean. The cooling systems keep things running cool, even in high-trash environments and high altitudes.
Ergonomically correct short-throw pilot levers provide smooth, predictable fingertip control with less movement and effort.
Push buttons in the right lever allow predictable control of auxiliary hydraulic flow for operating attachments. Optional sliding switch provides proportional speed control.
With impressive dig forces and lift capacities, this mid-size model delivers up to nine-percent more productivity than the 180G LC.
Powerwise Plus™ hydraulic-management system balances engine performance and hydraulic flow for reliable operation:
• Power delivers smooth, balanced metering for normal operation.
• Economy limits top speed and helps save fuel.
Quiet, spacious cab features expansive all-around visibility. Multi-language LCD monitor and rotary dial enable operators to see and access a wealth of information and functions.
Large fuel tank and 500- and 5,000-hour engine and hydraulic oil-service intervals decrease downtime for routine maintenance. Fluid-sample and remote diagnostic ports help speed preventative maintenance and troubleshooting.
Emission Rating
Tier 4 / Stage IV
Engine Manufacturer
John Deere Power Tech
Displacement, ltr (Inches³)
4.5 (275)
Engine Output - Net, kW (hp)
108 (145)
Number Of Carrier Rollers - Each Side
2
Number Of Track Rollers - Each Side
7
Track Shoe Width, mm (inches)
800 (32)
Transport Length Mono Boom, mm (ft/in)
9040 (29 ft 8 in)
Transport Height - Maximum, mm (ft/in)
3390 (11 ft 1 in)
Overall Undercarriage Width, mm (ft/in)
3000 (9 ft 10 in)
Track Length On Ground, mm (ft/in)
3370 (11 ft 1 in)
Overall Undercarriage Length, mm (ft/in)
4170 (13 ft 8 in)
Tailswing Radius, mm (ft/in)
2550 (8 ft 4 in)
Ground Clearance, mm (inches)
450 (18)
Width over fixed tracks, mm (ft/in)
3000 (9 ft 10 in)
Track Gauge, mm (ft/in)
2200 (7 ft 3 in)
Digging Reach - Mono Boom, mm (ft/in)
9940 (32 ft 7 in)
Ground Level Reach - Mono Boom, mm (ft/in)
9790 (32 ft 1 in)
Dig Height - Mono Boom, mm (ft/in)
9790 (32 ft 1 in)
Dump Height - Mono Boom, mm (ft/in)
6930 (22 ft 9 in)
Dig depth - 2.44m / 8'ft flat bottom, mm (ft/in)
6870 (22 ft 6 in)
Dig Depth - Mono Boom, mm (ft/in)
7070 (23 ft 2 in)
Standard Dipper, mm (ft/in)
3210 (10 ft 6 in)
Fuel Tank, ltr (gallons (US))
285 (75.3)
Hydraulic Tank, ltr (gallons (US))
125 (33)
Ground Bearing Pressure, kPa (PSI)
32 (4.64)
Swing Torque, kNm (lbf / ft)
50 (36765)
Travel Speed - High, kph (mph)
5.3 (3.3)
Dipper Tearout, kN (lbf)
84.5 (18825)
Bucket Breakout, kN (lbf)
128 (28772)
End lift - 7.5m Reach, kg (lbs)
3870 (8320)
Side lift - 7.5m Reach, kg (lbs)
2340 (5010)
Total Flow, lt/min (gallons (US) / min)
384 (102)
Bucket Pressure, bar (PSI)
343 (4975)
Boost Pressure, bar (PSI)
380 (5511)
Operating Weight, kg (lbs)
20788 (45789)
Related Parts & Attachments