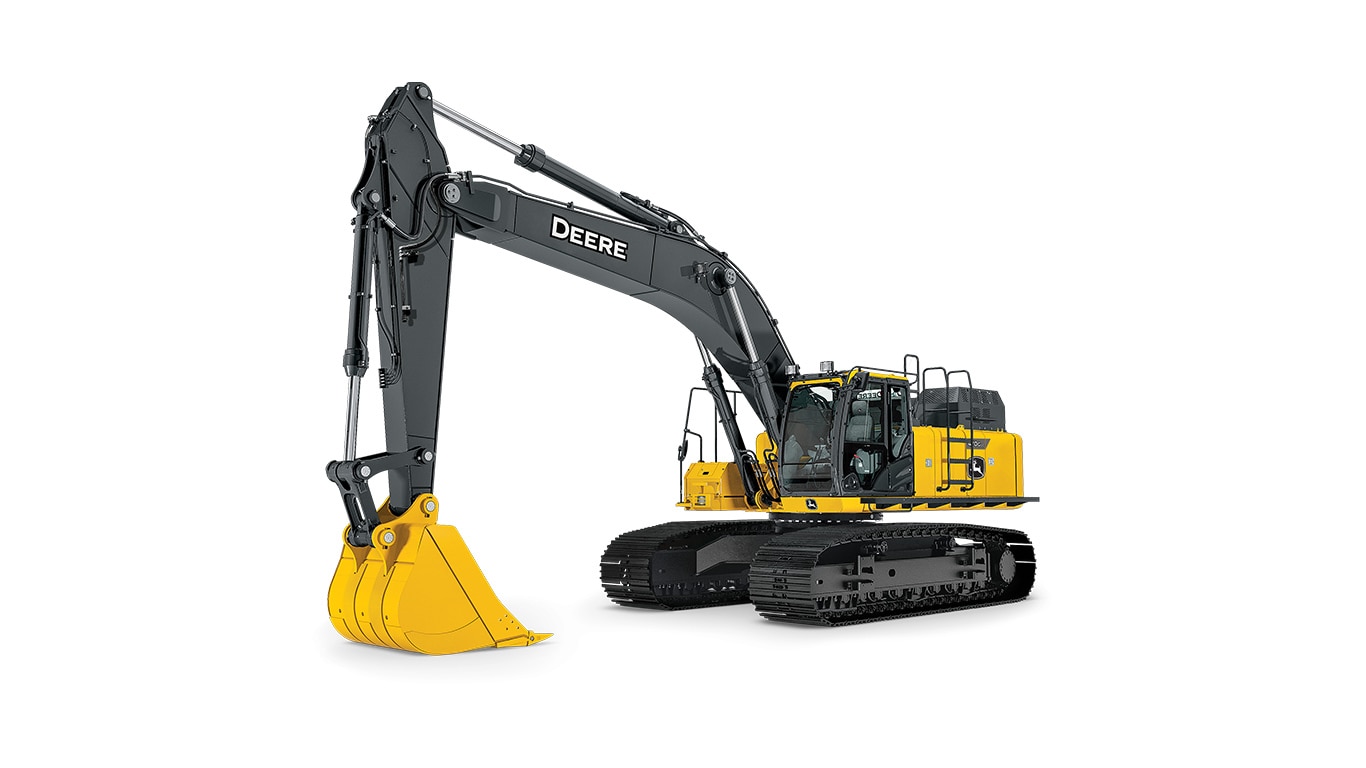 Large Excavator - 470G LC
Net Power: 274 kW (367 hp)
Max. Digging Depth: 8.27–9.11 m (27 ft. 2 in.–29 ft. 11 in.)
Operating Weight: 51 218 kg (112,916 lb.)
Grade Guidance arms operators with elevation and position of bucket cutting-edge relative to target plane (2D) or design surface (3D). It's perfect for precision excavation projects, including digging trenches for pipes, shaping ditches or slopes, or excavating structure foundations.
John Deere offers an economical way to adopt grade-management technology for your 470G LC Excavator by providing an easy path for future upgrades. This gives you the flexibility to find the right solution, whether you're looking at this technology for the first time or are interested in a premium solution. Choose economical Excavator Grade Guidance or opt for fully integrated SmartGradeâ"¢.
Our grade-management solutions are factory installed and backed by your John Deere dealer, including service, warranty, upgrades, and financing.
The EPA FT4/EU Stage IV engine employs field-proven cooled exhaust gas recirculation (EGR) for reducing NOX, and a diesel particulate filter and diesel oxidation catalyst to reduce particulate matter.
Ash-service intervals for the diesel particulate filter (DPF) are condition based, with machine alerts notifying the operator before service is required.
Highly efficient, hydraulically driven fan runs only as fast as needed, reducing noise, fuel consumption, and operating costs. The cooling systems keep things running cool, even in high-trash environments and high altitudes. Standard reversing feature backblows cooler cores to help keep them clean automatically or at the touch of a button.
Ergonomically correct short-throw pilot levers provide smooth, predictable fingertip control with less movement or effort.
Push buttons in the right lever allow fingertip control of auxiliary hydraulic flow* for operating attachments.
Press the power-boost button on the right-hand control for extra digging power.
*Grade management not available with auxiliary hydraulics.
Bucket-to-arm pivot joint features a new heat-treated pin and flanged bushing made of forged steel, to double joint life in sandy digging conditions. High-strength floating-pin design extends pin-case hardening depth by 175 percent, boosting wear life and easing serviceability.
Standard control pattern-change valve and fuel shutoff are well protected yet conveniently accessible at ground level.
A John Deere exclusive, three welded bulkheads within the boom resist torsional stress.
Wide expanse of front and side glass, narrow front cab posts, large overhead glass, standard deluxe LED lighting package, and numerous mirrors provide expansive all-around visibility.
Engine Manufacturer
John Deere Power Tech
Displacement, ltr (Inches³)
13.5 (824)
Engine Output - Net, kW (hp)
274 (367)
Number Of Carrier Rollers - Each Side
3
Number Of Track Rollers - Each Side
9
Track Shoe Width, mm (inches)
900 (36)
Transport Length Mono Boom, mm (ft/in)
12010 (39 ft 5 in)
Transport Height - Maximum, mm (ft/in)
4550 (14 ft 11 in)
Overall Undercarriage Width, mm (ft/in)
3290 (10 ft 10 in)
Track Length On Ground, mm (ft/in)
4470 (14 ft 8 in)
Overall Undercarriage Length, mm (ft/in)
5470 (17 ft 11 in)
Tailswing Radius, mm (ft/in)
3670 (12 ft )
Ground Clearance, mm (inches)
740 (29)
Digging Reach - Mono Boom, mm (ft/in)
12490 (41 ft )
Ground Level Reach - Mono Boom, mm (ft/in)
12280 (40 ft 3 in)
Dig Height - Mono Boom, mm (ft/in)
11160 (36 ft 7 in)
Dump Height - Mono Boom, mm (ft/in)
7770 (25 ft 6 in)
Dig depth - 2.44m / 8'ft flat bottom, mm (ft/in)
8140 (26 ft 8 in)
Dig Depth - Mono Boom, mm (ft/in)
8270 (27 ft 2 in)
Fuel Tank, ltr (gallons (US))
675 (178)
Hydraulic Tank, ltr (gallons (US))
310 (82)
Ground Bearing Pressure, kPa (PSI)
61.3 (8.9)
Swing Torque, kNm (lbf / ft)
148 (109159)
Travel Speed - High, kph (mph)
5.5 (3.4)
Tractive Force, kN (lbf)
328.8 (73937)
Dipper Tearout, kN (lbf)
201 (45187)
Bucket Breakout, kN (lbf)
286 (64295)
End lift - 7.5m Reach, kg (lbs)
14460 (31300) *
Side lift - 7.5m Reach, kg (lbs)
8790 (18910)
Total Flow, lt/min (gallons (US) / min)
800 (212)
Bucket Pressure, bar (PSI)
319 (4627)
Boost Pressure, bar (PSI)
353 (5120)
Operating Weight, kg (lbs)
51218 (112916)