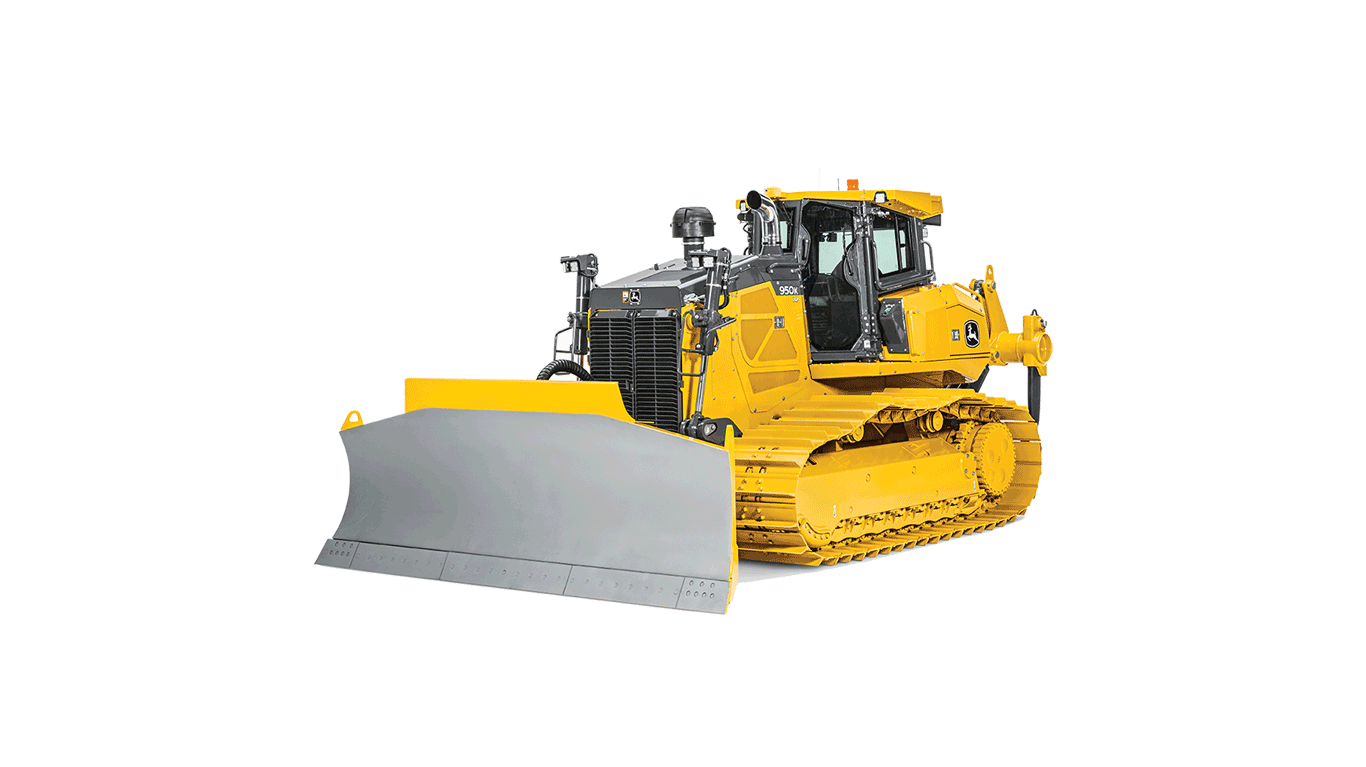 Crawler Dozer - 950K
Net Power: 198–209 kW (265-280 hp) at 1,800 rpm
Operating Weight: 29 606–33 431 kg (65,300-73,700 lb.)
Track on Ground: 3214–3431 mm (126.5–135.1 in.)
John Deere production class dozers: Easy to run, easy to stay comfortable
When you're spending over 40 hours a week in the cab, a comfortable operating environment isn't just an option – the right features, in the right places, let you and your operators work hard and enjoy long days in the office.
Control easily accessible features within arms reach on John Deere's sealed switch module (SSM), including keyless start. You will settle right into the standard high back 7-way adjustable seat with adjustable armrests and thigh support. The seat is angled 15 degrees to provide optimum comfort when using rear attachments. You'll get plenty of storage space with outlets available to keep your electronics powered. You will appreciate the suspended double bogie undercarriage on the 1050K when you feel the 75% reduction in cab vibrations.
John Deere Connected Support™ prevents downtime and efficiently resolves issues with revolutionary technology-based solutions
When you buy John Deere equipment, you expect reliability. You also know that problems can happen, and a product is only as good as the support behind it. That's why John Deere equipment is prepared with technology that senses potential issues and can alert you and your dealer promptly—in the cab or anywhere you are.

John Deere Connected Support is a revolutionary change to support that leverages technology and the connectivity of JDLink™ telematics to prevent downtime and resolve problems faster. These tools decrease downtime by an average of 20 percent, enabling faster responses to unexpected problems and reducing technician trips to your machine. For some issues, unplanned downtime can even be prevented altogether through prediction of the issue.

With your permission, John Deere Connected Support:
Keeps you running by monitoring machine health and promptly alerting you and your dealer of issues
Saves time by remotely viewing machine operating parameters, reducing trips to the machine
Reduces or even eliminates technician trips to a machine through remote diagnostic and remote software reprogramming capabilities
Connects experts with the information needed to respond to downtime faster and prevent it altogether
With more than a decade of experience leveraging connectivity to solve problems, no one else has the experience, tools, and knowledge to keep you running as John Deere and your John Deere dealer can. Connected Support is an in-base feature on all John Deere products with factory or field-installed JDLink.
Work at your best with little effort and more control using advanced hydraulic features
Of course, John Deere production dozers have the weight and power to take on your most demanding environments. But thanks to John Deere's field proven dual path hydrostatic transmission, your machine keeps power to both tracks 100% of the time and gives you and your operators effortless control.
John Deere's hydrostatic transmission allows you to independently control hydraulic and transmission functions without sacrificing performance. Tackling tasks is simple with infinite speed control. No need to shift or manage multiple pedals. Controls are common from our small dozers to our largest, operators can be confident and comfortable from dusk to dawn and beyond.
John Deere's load sensing power management system with dynamic braking and hill hold provide smooth operation in any situation. The machine automatically adjusts ground speed based on load which allows you to concentrate on blade control. When pushing down steep slopes the machine will maintain constant travel speed to prevent the machine from running away and if the FNR lever is moved to neutral, the machine will come to a stop.
Every operator has their own preference when it comes "feel" of the hydraulic and transmission systems. John Deere dozers offer tunable settings that adjust response rates and speed giving you the ability to fine-tune the machine to your operator's preference and experience.
Lower operating costs and increase expectations with fuel saving features, wide-open access for maintenance, and extended life undercarriage offerings
With and advanced ECO mode feature you will be able to improve fuel consumption without sacrificing productivity, maintaining the production you expect. ECO mode allows the machine to automatically adjust engine speed to match current load conditions, meaning engine speed is reduced when it's not needed but available when it counts. Standard features like auto-idle and auto-shutdown also help reduce unnecessary fuel consumption.
Enjoy wide-open drivetrain component access with a cab that tilts a full 70 degrees in only minutes. In every operation uptime relies on maintenance, ensure daily checks and maintenance can be performed efficiently with same side grouped access to service points. The automatic reversing fan keeps your machine running cool with less time spent cleaning the coolers.
Looking for more out of your undercarriage? Investing in an extended life undercarriage option promises that you will reduce your operating costs and extend undercarriage wear life. John Deere's extended life undercarriage uses SC-2™ coated bushings to provide up to twice the pin & bushing life. This lengthens the amount of run time before a "turn decision" has to be made, and in some cases may even be eliminated.
Put more power to the ground, more efficiently
Power that doesn't get to the ground is power that's being wasted. To help you get the most from every horse under the hood and every hour in the cab, John Deere uses a dual path hydrostatic transmission, optimized blade profile, and offers the largest six-way dozer blade in the industry.
Choose between an OSD configuration or a six-way PAT blade on the 950K. Along with the six-way blade you also get an added 3,800 lbs. of weight and extra 15 horsepower. The optional 3D SmartGrade system will make sure you achieve target grade quickly and accurately. Equipped with a 184-inch blade, the 950K PAT provides a combination of productivity and versatility that no one can match.
Appreciate the simple operation of the hydrostatic transmission which allows independent control of hydraulic and transmission functions without sacrificing power.
Expect to move more material every pass with the new blade design of the 1050K. The updated profile increases capacity to 14 cubic yards and optimizes material rolling performance.
Engine Manufacturer
John Deere
Engine Model
PowerTech PSS 6090
Displacement, ltr (Inches³)
9 (549)
Engine Output - Net, kW (hp)
198 (265)
Transmission Type
Hydrostatic
Speeds Mode 1 - Forward
1
Speeds Mode 1 - Reverse
1
Final Drive
Double Reduction - Planetary
Shoe - Pitch, mm (inches)
215.9 (8.5)
Shoe - Type
Single Grouser - Extreme Service
Ground Contact Area, cm² (Inches²)
39211 (6078)
Height - Max, mm (ft/in)
3427 (11 ft 3 in)
Ground Clearance, mm (inches)
312 (12.3)
Track Length - On Ground, mm (ft/in)
3214 (10 ft 6 in)
Track Gauge, mm (ft/in)
2006.6 (6 ft 7 in)
Blade - Width, mm (ft/in)
3911 (12 ft 10 in)
Blade - Dig Depth, mm (inches)
778 (31)
Blade - Tilt, mm (ft/in)
800 (2 ft 7 in)
Steering - Differential
No
Fuel Tank, ltr (gallons (US))
505.5 (133.5)
Hydraulic Tank, ltr (gallons (US))
87 (23)
Blade - Capacity, m³ (yd³)
7.2 (9.4)
Speed - Forward Maximum, kph (mph)
11 (6.8)
Speed - Reverse Maximum, kph (mph)
11 (6.8)
Ground Bearing Pressure, kPa (PSI)
74 (10.8)
Implement Pump - Type
Piston Pump
Implement Pump - Flow, lt/min (gallons (US) / min)
200 (53)
Implement Pump - Pressure, bar (PSI)
249.93 (3625)
Operating Weight, kg (lbs)
29606 (65300)
Related Parts & Attachments