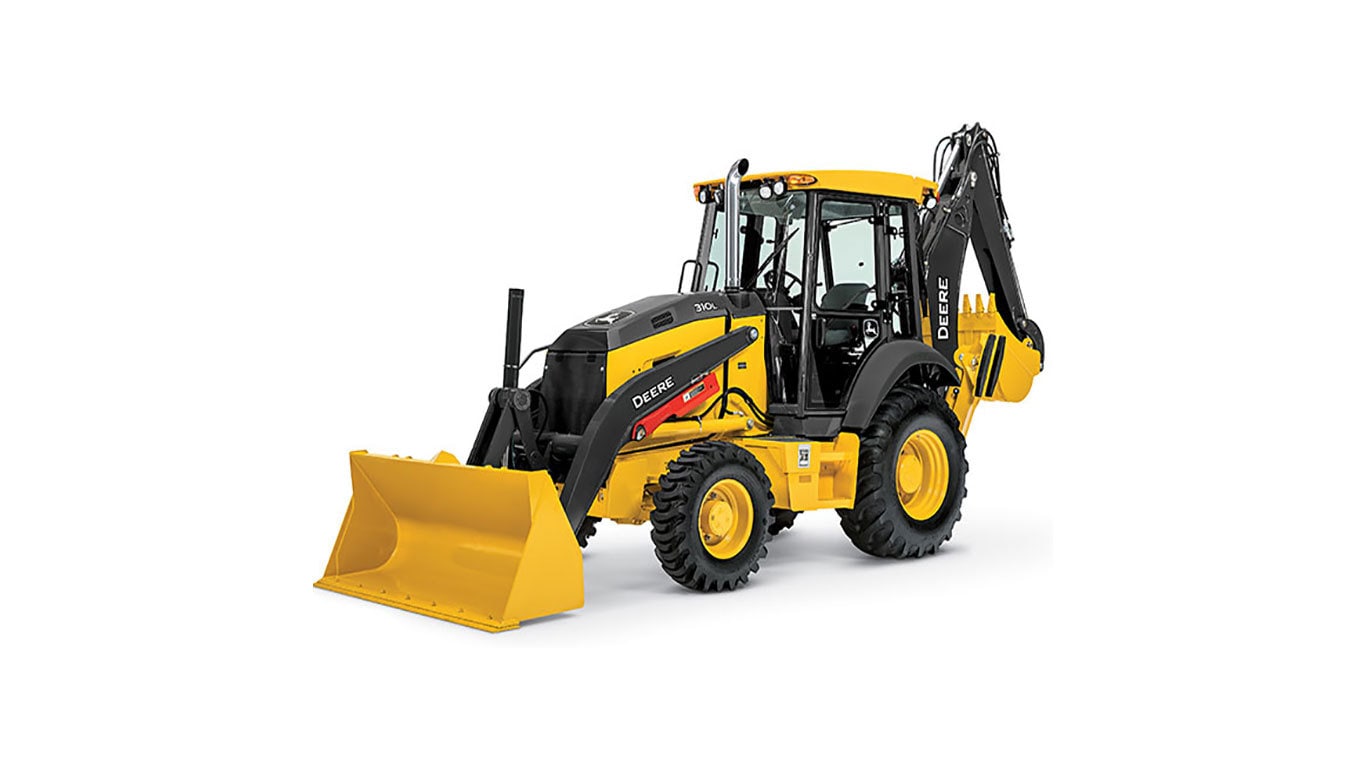 Backhoe - 310L
Net Peak Power: 75 kW (100 hp) at 1,600 rpm
Max. Standard Dipperstick Digging Depth: 4.30 m (14 ft. 1 in.)
Operating Weight: 6 654 kg (14,669 lb.)
Improve Comfort With Ride Control
Overview
Ride control operation is a feature to improve machine ride and reduce tire flexing when traveling over rough terrain at a high speed with loaded bucket, or when transporting with an empty bucket.
Benefits
Increases operator comfort and efficiency
Reduces material spillage in load and carry operations
Save Fuel with Economy Mode
Overview
Standard economy mode can be configured separately between loader and backhoe functions. Activate economy mode for backhoe functions while retaining full power for loader functions. This helps maximize fuel usage in lighter-work applications with minimal effect on machine performance.
Benefits
Quick and easy fuel savings are available at the push of a button
Economy mode SSM push button activation for reduced fuel consumption on 310SL through 710L models. For models 310L EP and 310L, Eco Mode is controlled through the display's menu.
Redesigned Loader-Control Valve
Overview
The loader control valve has been redesigned. The new valve will help reduce hydraulic cylinder-rod drift, improve metering profiles and controllability, and boost three-point stance performance. The auxiliary flow has been increased by 5 gpm (19 L/min) for improved performance on high flow loader attachments.
Benefits
Updated to reduce hydraulic cylinder-rod drift and improve metering profiles and controllability
Integrated, low-leak, check valves in loader boom and bucket rod circuits on 310SLthrough 710L models, improving three-point stance performance
Electrohydraulic (EH) auxiliary hydraulics are now integrated into the valve body, for minimized connections and potential leak points.
Maximum auxiliary flow has increased to 35 gpm (133 L/min), for improved performance of high-flow loader attachments.
Reduced spool to bore leakage
Anti-cavitation standard on boom and bucket to further help with back dragging applications
Improved Loader-Lever Linkage
Anti-spill Linkage
Low knee profile
Pin retained
The loader lift arm is a fabricated design. The loader lift arm has a low knee profile for improved visibility. The guide link to lift arm pin is retained to prevent rotation for reduced wear and increased pin life.
The anti-spill function on base model L-Series Backhoes is mechanically activated. The anti-spill linkage runs down the right side of the loader lift arm and is set from the factory. Based on operator preference or over time, this linkage may require adjustment. Comments like an operator is 'fighting' the loader lever wanting more or less bucket rollback when raising the boom typically indicates the anti-spill linkage needs adjustment.
Overview
Enhanced "palm-on-top" loader-control grip is comfortable and easy to use. The loader-control valve has been redesigned to reduce resistance and improve its throw and feel.
Benefits
Lever travel from handle-to-linkage ratio has been reduced up to 15 percent.
Update includes removal of the spherical joint and replacement with a forged U-joint and integrated needle bearings, for maximized durability.
Maintains same loader grip and harness as previous L-Series Backhoes.
Powerful John Deere PowerTech™ EWL Engine
The John Deere PowerTech™ EWL eliminates the need for a diesel particulate filter (DPF) and exhaust gas recirculation (EGR) system. Underground customers will appreciate the increased power, improved torque, and greater reliability compared to the previous design.


EPA Final Tier 4 (FT4)/EU Stage IV emission certified.
3–7 percent net horsepower increase with improved torque curve.
Removal of the exhaust gas recirculation (EGR) system and components (plumbing, cooler, and sensors). Simpler two-valve cylinder-head design.
Redesigned and improved fuel-filter location enables easy access when changing filters.
Does not require a DPF, reducing maintenance costs on the aftertreatment system
DOC Canister
DEF Dosing Module
SCR Canister
The 310L-410L model will now feature the Gen 2 EWL after treatment system (ATS).
DEF fluid is injected directly into the DOC canister
No decomp/mixer tube for DEF fluid injection.
Ground Level Serviceability
Overview
Check and change fluids quickly and cleanly from the ground to keep equipment running smoothly. Separating coolers is quick and easy. Worry less about contaminants and moisture entering the axle case and shortening the life of your oil and axle components.
Benefits
Same side, ground level daily service – including fuel fill; easy checks are more likely to get done, preventing a major failure, and reducing inspection time
Two position easy tilt hood
Hinged Cooling Package Design
Fully sealed front and rear axles
Additional Details
The one-piece SLX engine hood is constructed of a durable, paint-less plastic hood process. The hood retains the 2-position functionality for easy daily service checks and outstanding accessibility to the engine and cooling package with the loader boom raised and locked in position.
Angled and sloped hood provides improved visibility to front loader and forks
Integrates color into the molding process, eliminating the need for exterior paint
Reduces visible surface scratches
Improves hood alignment with mounting saddle and latching
Minimizes flexing with reinforcement at the pivot and sides
Engine Manufacturer
John Deere
Engine Model
PowerTech EWL 4045HL050
Displacement, ltr (Inches³)
4.5 (276)
Engine Output - Net, kW (hp)
75 (100)
Transmission Type
Powershift
Service Brake Type
Wet Multi Disc
Service Brake Actuation
Hydraulic w/Power Assist
Max length with std. Stick, mm (ft/in)
7240 (23 ft 9 in)
Height over std Stick, mm (ft/in)
3390 (11 ft 1 in)
Height over ext Stick, mm (ft/in)
3390 (11 ft 1 in)
Maximum Width, mm (ft/in)
2200 (7 ft 3 in)
Width over tires, mm (ft/in)
2200 (7 ft 3 in)
Wheelbase - 4WD, mm (ft/in)
2190 (7 ft 2 in)
Ground Clearance, mm (inches)
293 (12)
Width - General Purpose Bucket, mm (ft/in)
2184 (7 ft 2 in)
Bucket Rotation - Position 1, Degrees
190
Bucket Pin Height - General Purpose, mm (ft/in)
3480 (11 ft 5 in)
Dump Height - General Purpose, mm (ft/in)
2740 (9 ft )
Dump Reach - General Purpose, mm (inches)
702 (27.7)
Digging Depth - General Purpose, mm (inches)
70 (2.8)
Fuel Tank, ltr (gallons (US))
128.7 (34)
Hydraulic Tank, ltr (gallons (US))
45 (11.9)
Rear Axle, ltr (gallons (US))
18 (4.75)
4WD Front Axle, ltr (gallons (US))
6.5 (1.725)
Bucket Capacity - Standard General Purpose, m³ (yd³)
0.77 (1)
Bucket Tearout - Non-Extending Dipper, kN (lbf)
48.2 (10844)
Stick tearout, kN (lbf)
31.1 (6992)
Boom Lift - Maximum Reach - Non-Extending Dipper, kg (lbs)
1347 (2970)
Bucket Breakout - General Purpose, kN (lbf)
41.6 (9361)
Lift To Full Height - General Purpose Bucket, kg (lbs)
2919 (6435)
Pump Flow, lt/min (gallons (US) / min)
106 (28)
Operating Weight, kg (lbs)
6822 (15039)
Weight - 4WD, GP, std Stick, kg (lbs)
6822 (15039)
Related Parts & Attachments